IntoResin is a young online platform to buy resin supplies and molds, and learn about crafting created by enthusiastic crafters, passionate about working with their hands and bringing beauty and art in this world.
I highly support all small creative brands and decided to try their molds for resin. Are they better than others? Let's find out!
Our creative hobbies are what keep us sane in the modern world and I find epoxy being very meditative as well as pouring.
I am breaking down in my IntoResin reviews everything: from how to order to real videos of making resin crafts with Intoresin molds, and showing how I messed up once, lol!

This post contains affiliate links. They mean no extra costs for you, but a tiny commission for me to support my blog and passion. Thank you!
IntoResin Reviews: One of my favorite resin molds from now on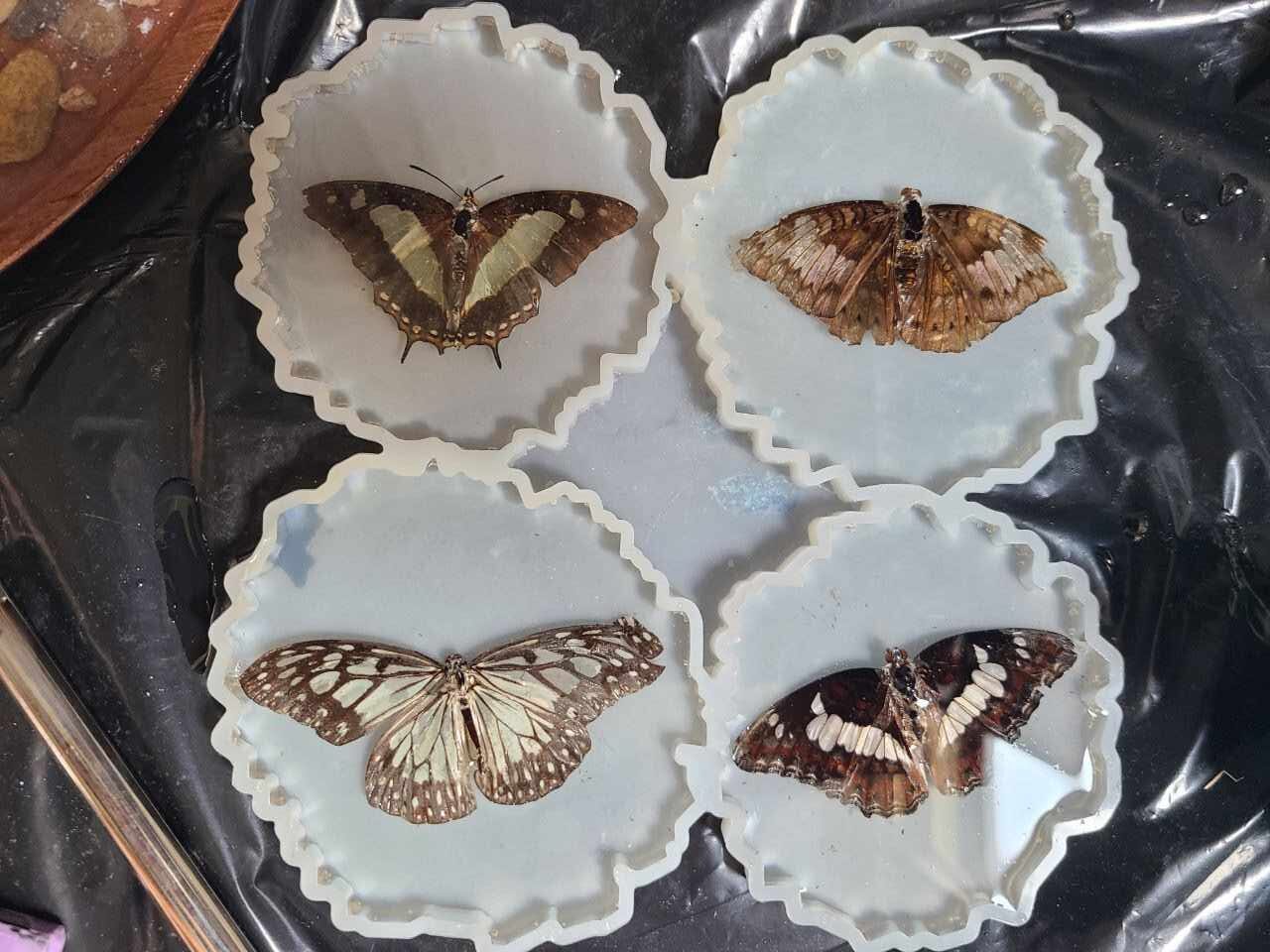 Product Quality
IntoResin sells molds for a huge variety of projects, epoxy resin supplies, but also resin handmade items from jewelry to clocks!
They focus specifically on epoxy contrary to most all-in-one art supplies stores, which allows them to maintain quality and customer service on the highest level and keep a close connection with their creative clients.
I love being part of an intimate group of like-minded people where I can feel "home".
All IntoResin silicone resin molds are compatible with most epoxy resin brands, including UV resin.
To customize your project add some pigments to color your resin, dry flowers, glitters, shells, metallic or holographic flakes, crushed glass, stickers, etc.
You can shop all these accessories at IntoResin too.
RELATED POSTS:
73 Best Resin Mold Ideas + DIY Mold for Epoxy Recipe to boost your creativity.
17 Best Heat Gun for Epoxy Resin to Get Rid of Bubbles in 2022 to save you from bubbles.

I got to test 3 molds from IntoResin, well, the most traditional one – oval tray of course, as it is a must-have I think.
Coasters with a stand, I believe a staple for a crafter and one creative one – an I Love you stand in the shape of a heart which can be an amazing romantic gift for St Valentine.
The most important to look at when you get a mold for resin:
This is crucial as if there is bumps, bubbles, and uneven surface it will all affect your crafts and the final result will never satisfy you.
The silicone should be smooth and has no visible or palpable defects. In this matter IntoResin Molds are just perfect, look for yourself, I made some close pictures:
The material should be absolutely 100% silicone.
There is no alternative. It should be high-grade silicone.
It should be easy to bend
Once the resin is hardened you will need to unmold the product, the silicone is stiff for whatever reason, which is rare but still, you will have trouble unmolding.
Before you pour resin, bend the mold and see that all sides and corners are ok to access and there will be no challenges for you to unmold it.
---
The molds I got:
Oval resin mold for epoxy and UV resin, it is super bendable, durable, easy to de-mold and clean after use. The mold was clean and ready to use, no chips, no uneven surfaces, no "burrs".
Standard size 7.3 x 3.8 x 0.8 inches(L x W x H).
And I made two trays, one with epoxy and one with jesmonite:
They have 3 options for St Valentine stand, I have version 1 with a heart, Love word and a stand.
And last I have beautiful geode coasters with a stand. There are 4 coasters molds, they are all of the creative shapes but they still fit and stand still in the holder without falling out.
And I was working on these coasters:
---
How much resin do I need – Resin Volume Calculator
This is just wow!
Thank you IntoResin for this resin volume calculator!
A lot of beginners struggle with it: ok, I have a mold, I have an idea of what I'm doing, I know I need to mix my resin and I must work quickly…
But how much resin do I need to tray mold or to cover a table? How do I calculate this?
Because we can easily premix too much and the resin will overheat or not enough and then we will rush to mix more and can make mistakes…
So this is a genius solution IntoResin has.
They have a comprehensive explanation on methods to determine how much resin you need as well as two calculators: for cylinder-shaped molds and for rectangle/square shaped ones:
Brand Sharing Knowledge
Contrary to what Amazon is – just a reseller, these guys have a background in crafting and their website itself is not only a platform to buy molds or supplies for you, but it is a knowledge base for all levels.
You are not just buying something that is promoted, you can read a guide and decide whether you should go with this or that product.
I always admire brands that are trying to make the life of a beginner in the art better and easier.
Not only that, they have a section with DIY ideas! Can you imagine?
You are getting a mold and you are already excited about creating a designer you saw.
I think it's a win-win situation. The IntoResin brand gets growth, sales, and money to reinvest in its development, and we get high-quality products for epoxy crafting, knowledge, and confidence boost.
You can get a free epoxy crafting guide for beginners or expert level any time, which I think is an amazing thing that should always come with crafting products as it covers all basics and make you more confident in how to work with this brand:
Ordering & Shipping
In fact, I can confirm as a "former" marketer how easy and understandable the ordering process affects the brand's success and sales a lot.
How many times do we get annoyed by filling in too many fields or something not working on the website? Gladly, IntoResin caused me no trouble.
Pros
Easy to navigate, simple website. All molds and supplies are grouped in logical categories, like Coasters molds and all products have pictures not only of a mold but how a final product can look like. Very helpful when you're making a decision. They have search feature so you can just input "flower" and see all products.
Bonuses:

10% off with coupon ACRYLICPAINTING (if you click on the link the coupon code should be automatically applied).
Orders over $39 get free shipping
If you buy 3 items you get 1 for free
Members who signed up have additional perks and bonuses
If you ordered, tried and liked the products and would like to recommend these molds or supplies to your friend, you can get bonuses for it, just make sure you joined IntoResin Partners Program.

They have their own tracking feature on your website – super handy, you just tyoe your email and order ID and see where is your beautiful mold.
Secure order: 30 days money back guarantee and return options.
Sales! Who doesn't love sales? I suggest checking the $9.99 Molds Sale page, it's constantly updated and allows you to shop on a budget!
Cons:
Maybe not the fastest delivery, it will take around 7-15 days depending on your location.
Not all countries are eligible for shipping at the moment, but brand will most definitely expand and situation will change, hopefully. I had a solution for my case: I shipped it to my PO box in US and then to Bali.
Shipping countries:
Shipping molds:

US, excluding Alaska, Hawaii, Puerto Rico, Guam, APO/FPO addresses, PO box and Amazon addresses, Australia, The United Kingdom, excluding the overseas territories, Germany, France, Italy, Spain, Netherland, excluding the affiliated islands of these countries.

Resin and supplies:

US, excluding Alaska, Hawaii, Puerto Rico, Guam, APO/FPO and Amazon addresses.
Customer service
As the brand is created by crafters and those who actually love working with resin, I find them to be super knowledgeable and helpful.
Plus, they are available 24/7 via live chat on the website or by email.
On the other hand, I didn't have any issues so I would go looking for support. I guess, the process is organized that way.
---
Epoxy Mistakes: How to Mess Up
I've made this beautiful and super cool oval tray and was excited to unmold it…but… 24 hours passed and it's still there, staring at me without hardening at all!
I was first in panic, then I started looking for an answer.
Typical reasons for Why your epoxy is still not dried are:
Thick layers
Unproper mixed part A and B of epoxy resin
Too much pigment
Unproper drying conditions.
Well, I'm currently living in Bali, and to be honest, that type of heat is not proper for anything, but yet, in my case, that was not an answer.
I waited one more night, leaving the mold outside and still, no changes.
What to do then?
Scrape as much undried, unharden resin as you can. That's what I did and I realized that the layer with pigments was the issue! The first clear layer was completely fine!
Make another thin layer to even the surface and leave it dry again and see what's happening. I was right, without pigmented layer, the tray worked out well, but I still decided to discard it completely as it was not was I was planning to do.
Yet, I made the video of making it and I still love how pretty it could have been!
---
I realized that I had to switch resin (granted it is very difficult to access good resins in Bali where I am based for last few years) and I ordered another one.
I also started to pour in layers, allowing each to dry as it is really hot and I think this is also why my resin could not set.
With these steps the next tray I made with dried flowers turned out nice!
---
How to make coasters with epoxy
Next, I tested the mold for the coasters – I love the shape, it's a trendy geode-shaped coaster. I used some glitter to make a very basic design just to test the coasters.
They all turned out great! The molds were easy to operate and it was easy to unmold all coasters and the holder.
How much resin do I need for a tray?
For a tray you need approximately 150-250 gr of mixed resin depending on the size and depth of the mold.
What is Let's resin cure time?
Resin, including Let's resin, is normally fully cured after 24 hours. You can demold though after approximately 8 hours. Do a light touch test and demold if there is no tacky areas.