Ever found yourself lost in the vibrant world of cookie decoration, wishing for the perfect edible markers to bring your sweet creations to life?
You're not alone!
In my quest to discover the best edible markers for cookies out there, I've tackled the hurdles bakers often face.
Picture this: you're gearing up for a special celebration, be it a cozy family gathering, a joyful birthday bash, or even a grand wedding affair.
You want your cookies not just to look amazing but to taste divine too.
But oh, the struggle!
Finding edible markers that effortlessly glide on, offer vibrant hues without compromising the deliciousness of your baked treats, can be quite a feat.
No one wants markers that bleed, fade, or worse, taste artificial.
Plus, it's not just about any markers – it's about finding the perfect ones for specific occasions.
Maybe you want soft pastels for a baby shower, bold and bright hues for a kid's birthday, or classy shades for a wedding dessert table.
Ready to dive in? Let's sprinkle some magic on those cookies! 🍪✨
Table of Contents
This article contains affiliate links. It means no extra cost for you but a little commission for me to support my hobby and blog. Thank you!
Do edible markers work for home bakers?
Edible markers are specially designed to work on food items, including cookies,icing, chocolate, etc.
These markers are formulated with edible ink that is safe to consume and does not contain any harmful substances.
They are commonly used by bakers and decorators to add intricate designs, personalized messages, names, and creative patterns to cookies, cakes, fondant, and other edible treats.
The advantage of edible markers is that they allow for precise and detailed decorating, easier than squeezing the icing or cream out of the piping bag.
You can't use regular acrylic or oil-based markers – they are not safe for food.
---
Choosing the best edible markers: What to look for
The whole point of getting a marker is that it should be easier to write on a cookie/cake than trying to get a word right with piping the icing (which is not fun sometimes).
Versatility: You need markers that work well on various surfaces like fondant, royal icing, and cookies and don't limit creativity is essential.
Type of the tip: there are 3 main types of the markers' tips – brush, bold tip or fine tip. Brush tips is much softer and works better for painting and coloring an area while fine tips are the best option for writing and detailed drawings. If you need thick broader line, easy to control, choose bold tip. Brush tips are challenging to get the lines right sometimes.
Ingredients. Most edible food markers are water-based, do not contain nuts and are Kosher. The composition is also relatively similar. The colors should be FDA certified and they will be most likely have a prefix liek FD&C, for ex., fd&c yellow or fd&c blue. Usually propylene glycol, citric acid, sodium benzoate, corn syrup, and potassium sorbate can also be found in food grade pens
Color Vibrancy: colors should stay vibrant and true after application. Faded or dull colors can ruin the visual appeal of the decorated cookies.
Drying Time: Quick-drying markers are preferred to avoid smudges and to allow for seamless decorating without waiting too long between layers or colors.
Ease of Use: Bakers need markers that are easy to handle, especially when intricate designs are involved. A comfortable grip and smooth application are vital.
Taste and Odor: Edible markers should not impart any taste or odor to the cookies. Unpleasant flavors can ruin the eating experience.
Longevity: Bakers often create large batches of cookies. So your markers should survive quite a long time without drying out easily.
Budget: professional edible markers (Rainbow dust, Ateco, Cookie Connection as ex.) can cost from 20 to 80 dollars, while amateur and beginner-friendly have very affordable prices and will normally be under $15.
---
List of the best edible markers for cookies
For extra fine detail professional bakers choose Rainbow Dust. For home bakers who prefer to buy a set of a few colors – Nomeca, Chefmaster or FooDoodler will work.
Rainbow Dust Professional Cake Decorators Food Pen – Very Good edible ink markers
Rainbow Dust Professional Cake Decorators Food Pen Jet Black
With Rainbow Dust Food Art Pens you get the best of both worlds.
A superfine 0.5mm nib for detail work and a broader 2.5mm nib for bold pattern designs.
The free flowing ink means you only need a light pressure, so you can even draw directly on to finished cake.
Price: around $11 per pen.
Colors: Various (black, silver gray, chocolate, gold, dark chocolate, navy blue, teal, dark gold, leaf green, red, orange, royal blue, sky blue, yellow, holly green, dusky pink, grape violet, burgundy)
Features: Available in individual colors, with dual tip – 0.5mm very fine tip point, 2.5mm thick nib, free-flowing ink, suitable for macarons, royal icing and cookies. Professional grade.
The pen will last for at least a couple of years.
They don't come in sets which can be agood thing for somebody who only need specific color and doesn't want to overpay for colors you won't use anyway, but at the same time, I like to have an option of a set.
---
Nomeca Food Coloring Markers – RUNNER UP
Nomeca Food Coloring Markers
10 Vivid Colors: This food markers set including all the primary colors you need: Black, Red, Fluorescent Yellow, Green, Sky Blue, Fuchsia, Bright Pink, Dark Blue and Orange
This set is big – 10 colors (black, red, orange, fluorescent yellow, green, sky blue, dark blue, pink, fuchsia, bright pink), and all easy to layer without bleeding into icing.
Long lasting – don't dry up even after years of use.
Affordable price for a big set: $14-15.
Soft and flexible brush tip, suitable for thin and broad lines, works on cookies, fondant, royal icing, and cakes. But not the best for chocolate.
Cons: can stain a bit your hands and clothes, soft tips make it harder to control the line, yellow is prone to fading.
---
FooDoodler Fine Line Markers – RUNNER UP
Price: just under $10 for 10 colors

Fine tips

which means they are easier to use for writing, just like a pen. They don't bleed. Which makes them perfect for detailed drawings.
Requires very dry icing for best results
Colors: black, red, orange, yellow, green, blue, purple, pink, navy blue, brown.
Safe: Kosher and gluten-free.
Work for sugar cookies, royal icing, cookies, baked goods,
Cons: takes more time to dry than some brands, not very bright colors – more transparent.
---
Chefmaster Double-Sided Food Coloring Markers – Amazing choice for home bakers
Price: under $20
Colors: Various (black, red, orange, yellow, green, blue, violet, pink, brown, dark green). Colors stay bright and don't fade.
Features: Double-sided markers, works with royal icing, macarons, cakes, and fondant, but requires hardened icing before use.
Safe, diary-free, nut-free and Kosher.
This is another professional brand with reliable product line that you can buy.
---
Ultra-fine tip perfect for delicate details like eyelashe

s, fur, lettering.
Super fast-drying which guarantees no bleeding or smudging.
Best for: dry Royal Icing, dry Fondant, Wafer Paper, FlexFrost Fabric, and Gumpaste.
Sold individually for around $6 per pen. Can't buy them on Amazon.

Requires light pressure during use

Good overall performance

FDA approved.
The only drawback is price – it is not budget or beginner-friendly.
The brand also has professional brush-tip edible markers that are better for cookies but they are ridiculously expensive – about $70-90 for 11 pens.
---
Price: around $10-11 for 10 markers
Dual-tips: bold tip + fine tip so you can both color and draw.
Works best on sugar cookies, dry icing and frosting, Easter eggs, white chocolate
Colors: 2 Black pens, Pink, Purple, Green, Light Blue, Yellow, Orange, Dark Blue, and Red
CONS:
Can cause color bleed if icing is not fully dry
Though each pen has two different tips, making lines can be challenging
---
Ateco Markers
Ateco markers work on cookies, Royal icing, fondant, white chocolate, pancake, boiled eggs etc.
Kosher and safe to consume.
Brand itself is an old, very reliable brand of all thing baking so you can trust it.
Long-lasting, can be used for a few years without drying out.
Nice vivid colors, lines are visible though.
Cons:
on pricier side – about $18 for 10 markers.
although the set comes with 2 black markers, they are sometimes a little dry.
careful on cold or not fully dry surface – can flake off, but you need to wip off and try again.
---
Fantastix Blank pens
This is a very unique tool because it is basically empty pens that you can fill with food coloring or liquid edible ink yourself.
Convenient if you have ink or coloring, but not really if you need to go the whole hog just for the sake of trying to be DIY.
The biggest advantage of course that you can create custom colors, including white and metallics that are rarely seen in edible markers sets.
---
These Canadian edible markers are quite nice (they ship worldwide).
Professional edible markers for bakers
Not only food-safe and FDA compliant but vegan, gluten and nuts-free.
Work for cookies, cakes, macarons, meringue, dry baked goods and icing.
Dual tips – extra fine tip for detailing and writing and brush tip for soft lines and coloring.
CONS:
quite pricey, CAD28 is around $20 for 10 pens.
---
Price: $4-8
Work on cookies, fondant, dry icing.
Colors: Blue, green, pink and red
Safe and certified: Kosher certified and FDA approved. Sugar free, gluten free, nut free.
Cons: can dry out and offer limited colors choice compared to other sets of 10 colors.
---
Bakerpan Food Coloring Markers
Price: $7-10, affordable markers for mid and amateur level.
Colors: black or color set of 7 basic colors. Black markers are much more popular than color set.
Reusable, very saturated black color, fine tip for labels or writing but good enough for drawing too
Works well on sugar cookies, macarons, and marshmallows.
Cons: not easy to get them, they can be "unavailable" on Amazon.
---
AmeriColor Gourmet Writer Food Decorator Pens
Price: $5.50 for 2-pen sets and around $20 for 10-colors set.
Colors: Purple, Blue, Green, Yellow, Orange, Copper (not metallic color more like brown), Pink, Red, Brown, Black
Features: They have fine tip and are goodfor fine line writing and outlining decorations.
The brand focuses mostly of food coloring which is a good sign for us – a sign that they definitely make safe to use edible ink pens. And their food coloring is amazing.
What I find as a con:
Their pens are harder to buy than their food coloring. And the edible markers come in a set of 10 or a set of 2 colors and even on the official website the 10-pen set is out of stock.
Overall, they are not the best choice in my opinion.
---
Domi Baby Edible Markers
Price: $15-16
Colors: Various (black, red, orange, yellow, green, blue, purple, pink, gray, dark green)
Features: Double-pointed markers with wide and fine tips, easy to use, vibrant colors, suitable for decorating cookies, fondant, donuts.
Do not work really well on chocolate
---
Edible Ink Markers
Food coloring Pens, 11Pcs Double Sided Food Grade…
Used on fondant, cookies, gum paste, frostings, icing, pastries, donuts, petit fours, white chocolate, marshmallows, fruits, vegetables and more!
FDA compliant food colouring pens
10 different colors, but total 11 pens in the set as you get 2 black pens.
Good combination of tips: fine line tip and brush tip.
Work on many dry foods, even on pitas!
Be aware:
they do not work on candy melts
some batches come with patchy colors and look watered down though it happens rarely there is no return policy.
---
Edible Markers I DO NOT Recommend
Globalbelly black food coloring markers
Cons: very hard to buy and very little reviews online to really go for it.
Soft brush tip looks good but colors are not vibrant and some colors appear very light (e.g., purple, yellow)
Disappointing color intensity and variety.
Price wise also not the best option – for set of 2 black pens $5.
---
Wilton Foodwriter edible markers set
Controversial though, they have pretty good ratings on Amazon and many had success with them but also many people who tried them said it was very dissapointing!
Limited color variety and lack of brightness.
Markers may arrive dried out, have poor coverage, and bleeding problems.
The tips have very little difference between bold and fine and don't really work well for details.
Yet, can work well on macarons:
Macarons
Read also: Best Paint for Rocks & Pens for Rock Painting
---
Tips & Tricks When Using Edible Markers:
Allow royal icing to dry completely before using edible markers.
Use a steady surface when decorating with edible markers to avoid smudging, especially with delicate items like macarons.
Choose a sugar cookie recipe that resembles shortbread for decorated products.
Be careful when freezing decorated cookies, as smudging may occur upon thawing.
---
How do you decorate cookies with edible markers?
Writing on cookies with edible markers is a fun, super easy and creative way to add personalized designs.
Here's an easy step-by-step guide to help you get started:
Gather Your Supplies:
Edible markers in desired colors
Baked and

cooled

cookies
Optional: Fondant, royal icing, or any smooth icing surface for better results
Prepare Your Surface:
If you're using fondant or royal icing, make sure it's smooth and completely dry before you start. For plain cookies, ensure they are completely cooled.
Write or draw on cookies on stirdy surface.
Plan Your Design:
Think about what you want to draw on your cookies. You can sketch your design lightly with a pencil on the icing or fondant if you're unsure.
Start Decorating:
Hold the edible marker like you would a regular pen or pencil.
Gently press the tip onto the surface to start the ink flow. If the marker is double-sided, choose the appropriate tip for your design – fine for details, broad for larger areas.
Draw your design slowly and steadily. If you make a mistake, you can often gently wipe it away with a clean, damp cloth while the ink is still wet.
Let It Dry:
Allow your decorated cookies to

air dry

for a little while to ensure the ink sets properly. This can take anywhere from a few minutes to an hour, depending on the humidity and the thickness of the ink application.
Add Details:
Once the base layer is dry, you can add more details or colors on top. Just be sure each layer is dry before adding another to prevent smudging.
Enjoy or Package:
Once your designs are completely dry, your cookies are ready to enjoy or package as gifts.
Remember, practice makes perfect!
Don't worry if your first attempts aren't flawless but doesn't make it more fun? After all those are homemade cookies and they can be not perfect 🙂
---
FAQs:
Do edible markers work on cookies?
Yes, edible markers work on various surfaces you eat, including cookies, fondant, icing, macarons, and cakes.
What markers are food safe?
Markers and pens that are labeled edible and have FDA approval are food safe to use for cookies decoration, cakes, chocolate and beyond.
Regular Acrylic or oil-based markers for crafts are not food safe.
What are the best markers to write on chocolate?
Ateco, Rainbow Dust, EdibleThings edible markers work well on white hard chocolate.
Markers normally are not really visible on milk or dark chocolate, don't stick well to melted chocolate or hard to write on chocolate coated fruits.
Can you use edible markers on sugar cookies?
Yes, edible markers work nicely on sugar cookies as long as they are fully baked and cooled down already. Some markers may yet work better on dry hard frosting and icing though.
Are edible markers safe?
Yes, if FDA-approved, edible markers for cookies are safe to consume.
Edible markers are generally safe to use on food items as they are made with food-grade ingredients and edible ink.
Most reputable edible marker brands are certified by food safety authorities. When choosing edible markers, it's important to look for certifications or labels indicating that they are food-safe.
Avoid using markers that do not have clear information about their ingredients and certifications, as these may not be safe for consumption.
Always follow the manufacturer's guidelines and recommendations to ensure the markers are used safely and appropriately on edible treats.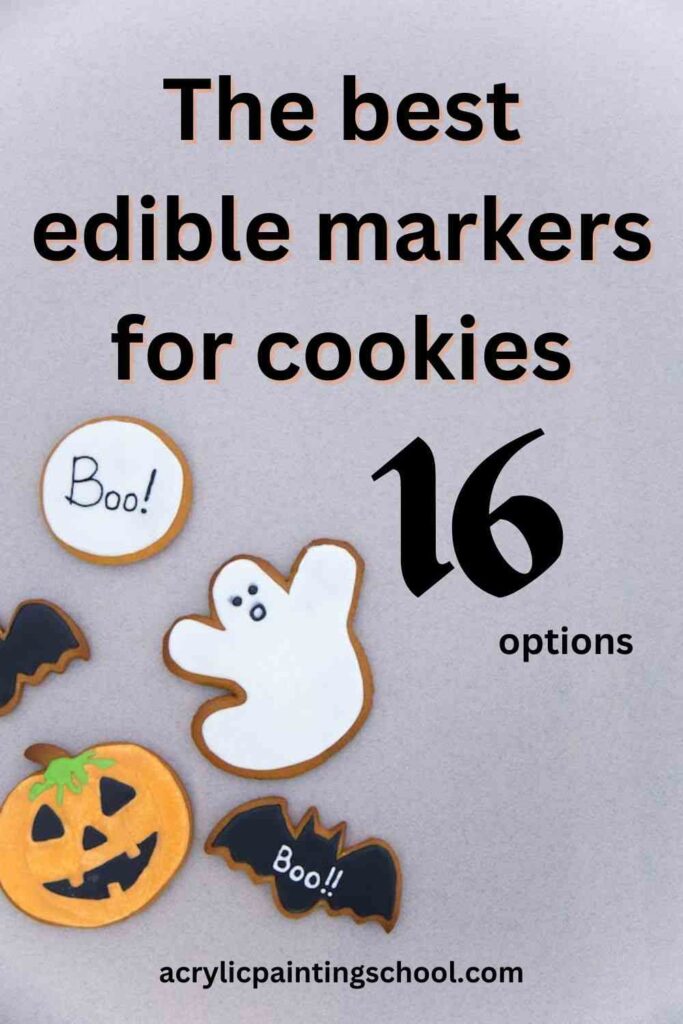 Conclusion
I hope this list of edible markers is of help for you! After all the testing and tasting, I can confidently say there's a whole galaxy of options out there when it comes to making your cookies look absolutely amazing.
So, which one's the best? Well, it really depends on what you're looking for. If you're after versatility and vibrant colors, AmeriColor Gourmet Writer Food Decorator Pens stole the show in our kitchen. They're like magical wands for cookie artists!
Then, there are the Edible Ink Food Coloring Pens, perfect if you're looking to balance quality and budget. Nomeca Flexible Brush Tip Food Coloring Markers surprised me with their watercolor-like results, making cookie decorating feel like painting.
Remember, cookie decorating is all about fun and creativity!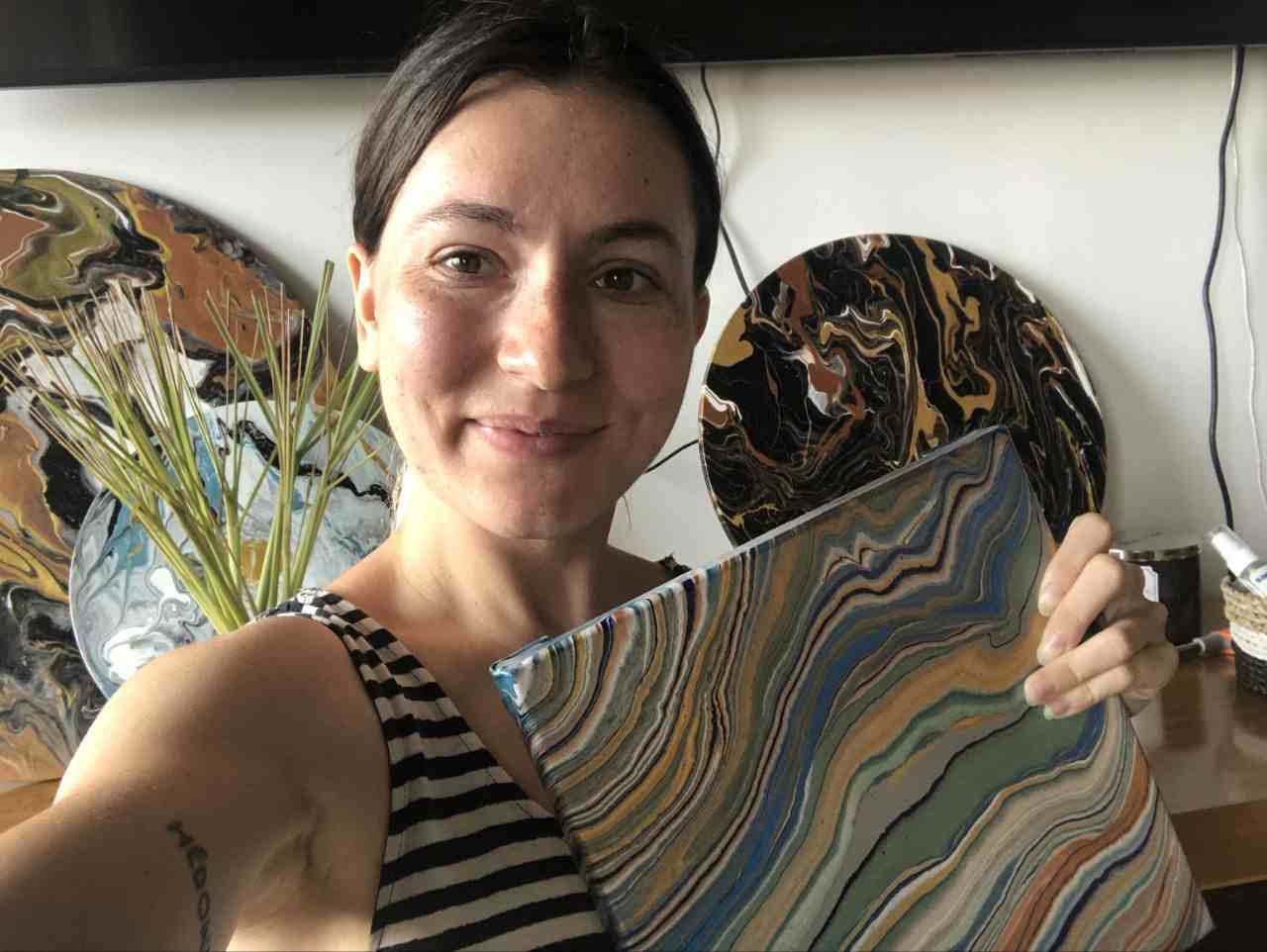 Masha Eretnova is a certified teacher. She started painting and drawing 20+ years ago and now is an international abstract artist and educator passionate about acrylic painting, gouache and crafts.
More about me.
Last update on 2023-12-04 / Affiliate links / Images from Amazon Product Advertising API