Daler Rowney Simply Acrylic Paint is a budget-friendly line of acrylic paints that are designed for beginners and students, but is it a good paint set for $11?
I will try the paints and share my thoughts in video and text Daler Rowney Acrylic Paint Review.
Is Daler Rowney Acrylic Paint Good?
Daler Rowney System3 acrylic paint is good for beginners and hobby artists who want archival quality acrylic paint at a cheaper price, yet with great coverage and opacity.
Daler Rowney acrylic paint has a smooth, creamy consistency that is easy to work with, and it dries quickly to a satin finish.
It is also water-soluble, which makes it easy to clean up with soap and water.
Crafters generally find Daler Rowney Simply Acrylic Paint to be a good value for the price. The paint is affordable, but still provides good quality and vibrant colors.
Acrylic paints are available in sizes of 75ml, 250ml, 750ml and sets.
Some customers do note that the paint may be slightly thinner than other brands, which can require more layers to achieve full coverage.
Overall, Daler Rowney Simply Acrylic Paint is a good choice for hobbyists or anyone looking for an affordable option for their personal painting projects.
While it may not have the same level of quality as more expensive brands, it still provides good results and is easy to work with.
For the price comparable quality (average) you will find with Reeves acrylic paint.
Is Daler Rowney Simply Acrylic Paint Good?
Daler Rowney Simply acrylic paints that I tested are of a very mediocre quality for me.
I've used dozens different paints and mediums and unfortunately I would not recommend Simply set for someone who truly wants to learn painting.
It is a very basic set for hobby, kids paintings and crafts without use of any acrylic painting technique or trick. They are hard to get consistent coverage, opacity and mixingor blending and worst – they can come lumpy.
With this being said, don't buy Graduate or Simply. Either buy System3 or invest a few more dollars to buy Winsor&Newton Galeria or Liquitex Basics to start.
---
Quick note on the brand
It is worth noting that Daler Rowney is a very old art supply manufacturer.
This British art materials company Rowney Company was founded in 1783 by apothecaries – Richard and Thomas Rowney. The company originally produced a variety of art supplies, including watercolors, oil paints, and drawing materials.
Later on – Thomas's son – George managed the company and it became George Rowney Company and continued to thrive – reaching India and Paris.
The paint they were making first was actually watercolor!
Only in 1963 they started producing acrylic paint (one of the first).
In 1983, the Daler Board Company acquired the company and it became Daler Rowney as we know it today. But the brand came to US market only around 90s.
Unlike many other brands outsourcing production to China, Daler Rowney is still produced in England.
---
Student Quality vs Artist Quality Acrylic Paints
Daler Rowney has their own system of products: Graduate and Simply line for amateur and hobby, super cheap, System 3 for beginners and more advanced artists.
System3 heavy bodyacrylics is artist grade paint (excellent coverage, highest quality from the brand).
For my review I have a set of Simply acrylic paint with 12 colors.
Daler Rowney Graduate
Cheap acrylic paint with low pigment load.
Doesn't have amazing coverage or opacity, mostly transparent.
Suitable only for craft projects or kids paintings.
Daler-Rowney Simply – Student grade acrylics I tried
What is stated online in description + Pros:
High lightfastness (3*).
Soft body.
Fast-drying.
Can be used on a variety of surfaces.
Non-toxic.
Made in England.
paper, board, canvas paintings
Suitable for working with brush, palette knife, and pouring
can be used directly from the tube or thinned with water
affordable price
Cons that I discovered during tests (at a glance):
All colors with one coat are mostly transparent.
I would consider it amateur quality, not even student grade paints
Some colors came out of the tube lumpy
Sealing tubes is great but if the end quality is lumpy or opening each seal creates a waste of paint or a mess – it is not worth it.
Generally non-toxic butcontains Biocidal product BIT which can cause allergy, also don't spray do avoid inhaling.
I find it inconvenient when the colour has non-universal name. For ex., Black or Brown. What kind of brown or black? There are so many shades of them.
Simply series is much less popular than System 3 which has higher quality.
Uneven inconsistent coverage.
Muddy or dull colors if you blend new colors you need.
No information about pigments used on tubes
Hard to blend.
---
My Daler Rowney Acrylic Paint review – Simply Set of 12 colors
If you are more of a video person, you can watch my video review:
Colors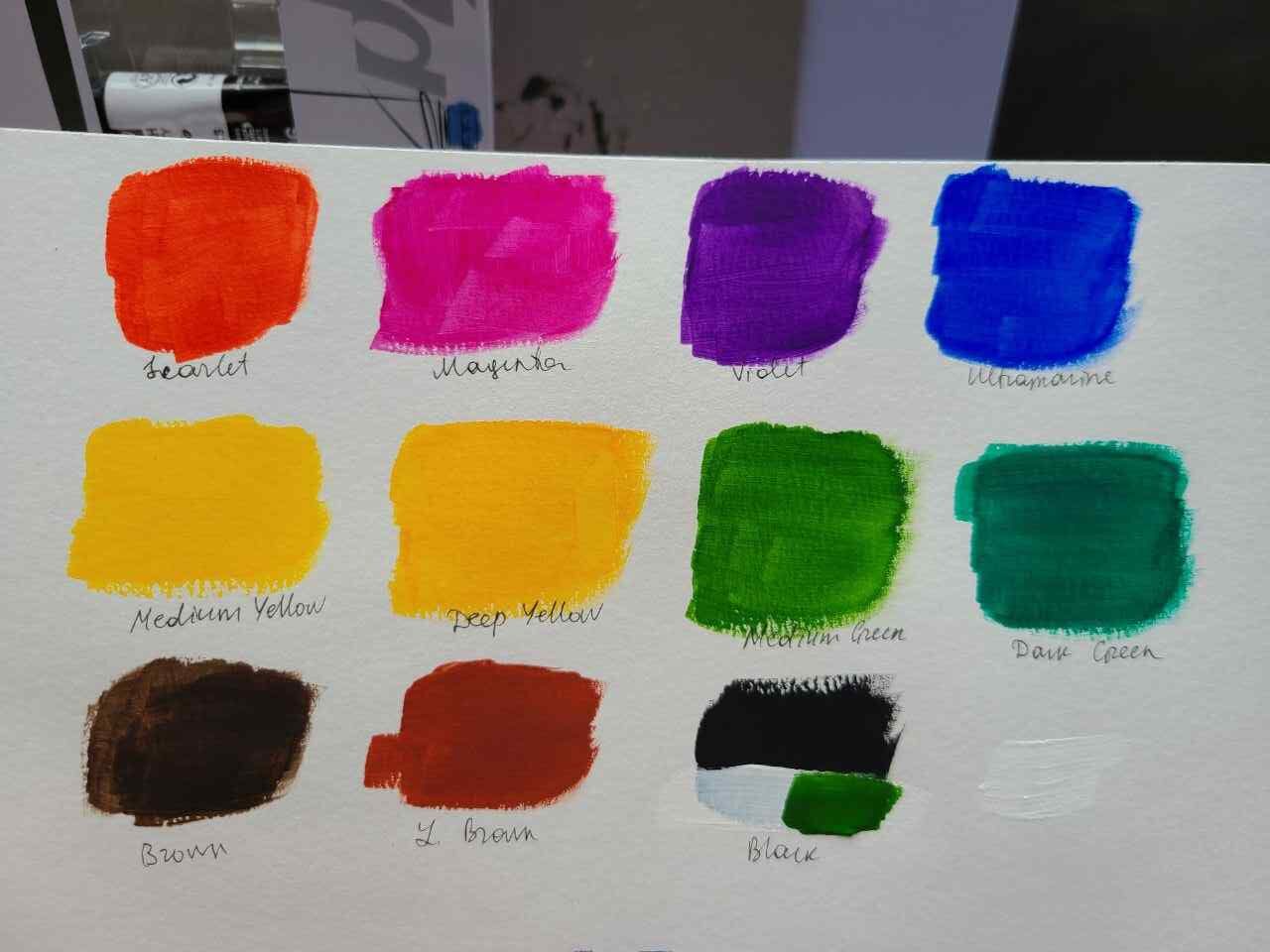 The set I got comes with 12 colors following the primary colors, some secondary colors from the color wheel and additional neutral colors. In general there are around 22 other colors in series.
I got:
White,
Black,
Light Brown,
Brown,
Scarlet,
Magenta,
Violet,
Ultramarine,
Medium Green,
Dark Green,
Medium Yellow,
Deep Yellow,
I'd like to mention that I don't see any serious difference between the two yellows in the set, nor visually, nor on swatches, not for mixing…
I'd rather have a lighter yellow.
All colors have soft texture compared to heavy texture of professional acrylic paint.
I've also compared just 2 colors with Reeves paints (as they have same pricing and same quality)
I believe that some colors are more opaque with Reeves, but overall the quality and coverage are pretty same. So you can conclude on quality level if you ever used Reeves.
Of course choice of the paint is a personal preference, but for me and other acrylic artists these brands wouldn't make the cut.
There is also no mention of actual pigmetns used for each color.
It make sense, some cheaper brands don't say it as beginners don't really read this information or there is too much of a mix going on.
Most professional higher quality paints have single pigment in it. Maximum a mix of 2-3 if it is a rare mixed color. Pro artists prefer it.
Why?
Single pigment paint is often considered to be better than paint made with multiple pigments because it offers greater color purity and consistency.
When a paint is made with multiple pigments, it can be difficult to control the color and achieve a consistent result, especially if the pigments have different properties or react differently with other materials in the paint.
Single pigment paint also tends to have better lightfastness, as the pigments used are often more stable and less likely to fade over time.
Another advantage of single pigment paint is that it allows for greater color mixing possibilities.
And all that makes sense if you see my tests with Simply set – they are definitely using lower pigment load and in general, lower quality pigments and thus I had issues with them.
---
Tubes
12 tubes of 12 ml (0.4 oz) each.
All tubes made of soft metal, not as sturdy as other brands. They all come sealed which is great for shipping.
Many product reviews of Amazon say – Oh I received my paint and it leaked or the package was damaged. Here, at least the tubes are sealed and you don't have unnecessary risks.
As it is an amateur paint, the label doesn't say anything about pigment load or lightfastness or opacity.
---
Opacity
Tubes don't have any information about opacity but the official website has an informative chart.
According to this chart my 12 colors in my set are:
White, opaque
Black, opaque
Light Brown, transparent
Brown, semi-opaque
Scarlet, semi-opaque
Magenta, semi-opaque
Violet, semi-opaque
Ultramarine, transparent
Medium Green, semi-opaque
Dark Green, transparent
Medium Yellow, transparent
Deep Yellow, semi-opaque
Based on my test I would say pretty much all colors except for black are quite transparent. White is more opaque only with 2+ coats.
It makes sense as the paint is very cheap and the pigment load is low, which makes it hardto make great opaque paints.
But I'm used to opaque acrylics, I would be able to fully use Daler Rowney Simply set for painting as I can't really paint from dark to light as no light color will cover anything! How am I going to add small details?
The only trick you can use is to apply a layer of white over dark color to increase the opacity of the next, more translucent, color. But it means that your white will run out too quickly!
---
Lightfastness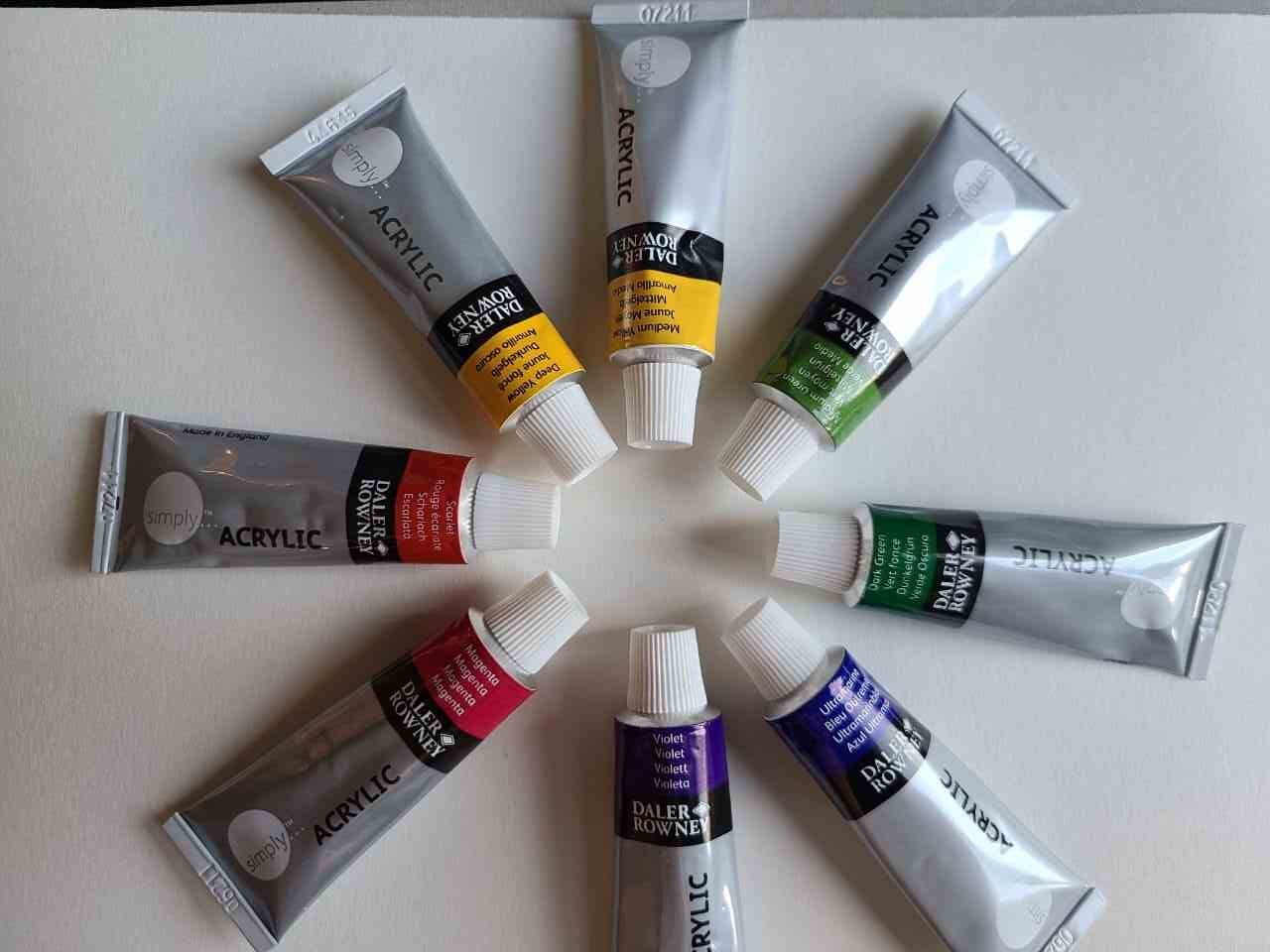 Daler Rowney has the following classification of lightfast paint:
4 stars (****)- Permanent
3 stars (***)- Normally permanent
2 stars (**)- Moderately permanent
1 star (*)- Fugitive
According to this, Simply acrylic paint has 3 stars meaning it is durable and lightfast. I take it as a fact, but testing the paint I would not be completely certain about its archival qualities.
Plus, the tube itself has no indication of lightfastness for each color.
---
Application
Applying acrylic paints from Simpy set is quite challenging to me.
Being soft bodied, even diluted with water they don't really flow nicely on paper, leave strokes (I know that brush doesn't leave strokes with Winsor & Newton or even Pebeo paints).
While the box says you can use it with palette knifeor for pouring I wouldn't. Using it with brush is not 100% enjoyable so I won't experiment.
Mixing and blending are rather challenging as well compared to how I can mix nice clean colors and do sommeth bleands with more expensive paints.
Mixing new colors somehow make slightly muddy and dull new colors…
---
Coverage
Poor coverage in general, quite transparent even without adding much water.
To make the paint flow smoothly, I have to use more water than I normally use with acrylic paints that are heavier in body than Simply soft body acrylics.
As some paints are lumpy, lumps get on paper and of course the final look won't be nice.
---
Drying qualities
Daler Rowney Simply paints are drying quite fast on paper, but not too fast for beginners.
They stay wet on palette for around 15 minutes but dried acrylic cannot be reactivated as any acrylic paint.
On paper dry fast, but if you need to speed the process up, I tested a hair dryer – works like magic.
---
Finish
Once dry, Daler Rowney Simply acrylic colors have almost flat, matte finish.
Feels a bit chalky to touch.
It seemed to me like colors being transparent while wet dry slightly more transparent!
---
FAQ
Is Daler Rowney acrylic paint water based?
Yes, all Daler Rowney acrylic paints are water-based.
Daler Rowney acrylic paint is designed to be water-soluble and easy to clean up with soap and water. This makes it a convenient and user-friendly option for artists of all levels.
Is Winsor and Newton better than Daler Rowney?
In my personal opinion Winsor and Newton acrylic paint is much better than Daler Rowney.
Both Winsor & Newton and Daler Rowney are well-respected brands in the art materials industry, and both offer high-quality products.
However, to me, Winsor & Newton acrylics have better consistency, are more opaque and performant than Daler Rownet paints and are more durable. I love Winsor&Newton heavy body acrylics, using them for impasto techniques and mixed media art.
Ultimately, of course the choice between Winsor & Newton and Daler Rowney may come down to personal preference and the specific needs of the artist.
Is Daler Rowney British?
Daler Rowney is a historically British art supplies producer, and even today their main facilities and production are still in England.
Today they also have representatives in Asia, Europe and US.
Who are Daler Rowney competitors?
For Daler Rowney Simply acrylic paints competitors would be acrylic brands like Reeves. For System3, I would say it is Amsterdam, Pebeo, BLick and other student grade brands, while System3 heavy body aims to compete with Golden, Liquitex and Matisse for best artist grade paints title.
Is Daler Rowney good acrylic paint?
Yes, Daler Rowney is a well-known and respected brand in the art world, and their acrylic paints are generally considered to be of good quality.
They offer a range of colors and consistencies, from heavy body to fluid, and their paints are known for their vibrant pigments and good coverage.
However, as with any brand of paint, individual preferences may vary, so it's always a good idea to try out a few colors and consistencies to see if they work well for your particular needs and style. To me, Simply series by Daler Rowney is not worth investing in.
Is Daler Rowney Acrylic paint permanent?
Daler Rowney Simply acrylic paint is fairly permanent while Daler Rowney System 3 is permanent once dry and has archival qualities that allow painting last decades.
Is Daler Rowney Acrylic paint toxic?
Daler Rowney acrylic paint is generally considered to be non-toxic when used as intended.
However, like all acrylic paints, it is important to follow basic safety precautions when using it, such as avoiding ingestion, keeping it away from eyes, and using it in a well-ventilated area.
Additionally, some colors may contain pigments that are considered to be potentially hazardous, such as cadmium or cobalt, so it's always a good idea to check the label for any warnings or precautions.
If you have any concerns about the safety of a particular paint, it's best to contact the manufacturer or consult with a health professional.
Final thoughts
I'm not satisfied with Daler Rowney Simply acrylic paint set as to me it has average quality similar to Reeves acrylics.
However, I myself did my very fist painting with Reeves paints and it is doing alright till today.
Yes the paint maybe not good for mastering brush strokes or painting techniques, but to have some fine – why not.
For more serious intentions, and if you are a Daler Rowney brand fan – choose System3 paints.
Otherwise, Winsor & Newton, Liquitex and Golden my top choices. With Amsterdam or Pebeo being cheaper alternatives I also respect.