Pebeo studio acrylics are widely known and popular for both acrylic painting and acrylic pouring. One of my favorite pouring artists – Olga Soby – uses Pebeo acrylic paints!
However, the brand started in 1919 and since then created a professional range of oil paints and acrylic paints. Are they any good value compared to Golden or Liquitex? Let's find out in my first-hand experience test I will describe in this Pebeo acrylic paint review.
is pebeo acrylic paint good?
Pebeo acrylic paint is a great choice for beginners because it offers high quality and creamy texture for a very affordable price. They have amazing choice of paints for variety of use and surfaces from porcelain to glass.
The simple set of 10 colors have all colors you may need and they perform great on paper or canvas.
To me Pebeo acrylics (studio series) and Amsterdam acrylics are on the same level – I like both of these affordable yet highly performant paints.
In general Pebeo is one of the oldest, most reliable and best acrylic paint brands on the market.
---
Is Pebeo Student-grade or artist-grade acrylic paint?
Pebeo produces both student and artist-grade paint.
Pebeo Studio acrylic series is a student-grade acrylic paint while Pebeo Artist Extra Fine acrylic paint is a professional paint.
Studio series is amazing for beginners, amateurs and students.
---
Pebeo Studio Acrylics High Viscosity Acrylic Paints Features
matt satin finish
primary colors in warm and cool temperature
good metal tubes, professional labeling
richly pigmented colors, single pigmented pure colors.
10 tubes a 20 ml., other acrylic colors brands use smaller tubes and most student acrylic use cheap plastic tubes.
7 opaque colors, 3 transparent
paste consistency
high viscosity acrylics
low odor
work as regular paints and for relief and texture, compatible with acrylic mediums
almost any surface(canvas, cardboard, wood, metal). For glass, ceramics and plastic surfaces use special brands and paints.
some set come with a free brush, size 6 (rather cheap quality)
non-toxic (ASTM D 4236), non-flammable, however, Do not pour into drains or waterways
made in china
Reasons to buy
affordable price and big tubes up to 100 ml available you can ultimately save money.
vibrant acrylic colors
perfect for painting on canvas, paper, wood.
easy to mix
amazing reviews (4.8 stars on Amazon) and pros using this paint is a good social proof of high quality.
easy to purchase – available online and offline in art supplies shops, you won't struggle with refilling.
Reasons to avoid
if you are looking to paint glass, plastic, metal, clay or ceramics opt for art supplies designed for these surfaces specifically (Pebeo has them)
if you are already a professional painter these paints won't exceed expectations.
if you are counting on using that free bonus brush (it's not good)
---
Video Review of my Test with PEBEO Paints
If you don't like reading, watch my video review.
If you are a reader – keep scrolling 🙂
---
My Honest Pebeo Acrylic Paint Review
Colors
Pebeo Studio series has a wide color range – 60 colors, including 48 regular colors, 4 phospho- and fluorescent, 4 metallic and 7 iridescent colors.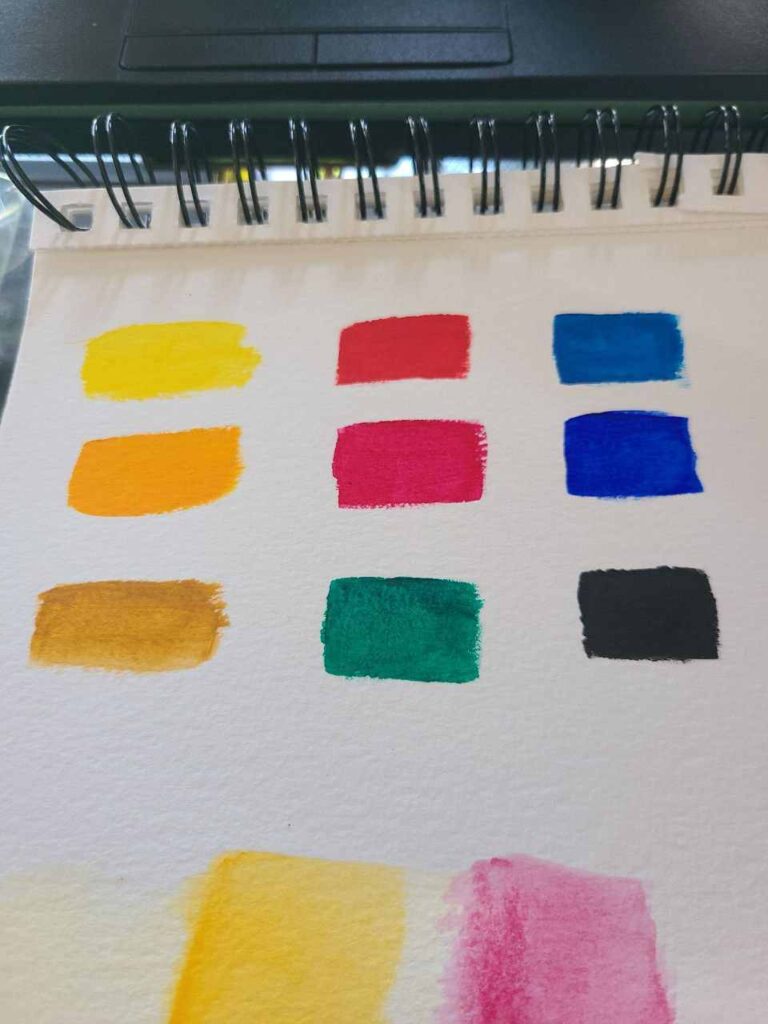 When buying a set, you will get 5 to 24 colors. In my set of 10, I have all the primaries and basic palette:
Titanium white,
Opaque primary yellow,
Cadmium yellow medium hue,
Cadmium red hue,
Primary Magenta,
Dark ultramarine blue,
Opaque primary cyan,
Phthalocyanne green,
Yellow ochre,
Mars black
Pigments
Pebeo uses high-quality pigments for all acrylic or oil paints.
Each tube has letters and numbers of the pigments.
Letter P stands for Pigment, and the next letter is usually the first letter of the pigment color used to make the paint color in the tube you're holding.
For ex.,
PW6 – white pigment for Titanuim white
PV + PR violet and red pigment for primary magenta, etc.
In general, professional paints are of higher quality when they use single pigmented colors. The more codes used to produce one color, the lower its quality is.
However, using 1 or 2 pigments is a good ratio and standard in paint production which is why Pebeo is good paint.
---
Tubes
Pebeo studio being student-grade paint has amazing tubes with tight lids like many pro paints do.
Tubes are very sturdy, metal and not flimsy plasticy. It will make it easier to get as much paint out of them as possible for you.
Each tube filled completely and there is no separated binder floating around.
---
Total coverage
Pebeo studio acrylic paint covers paper amazingly and these little tubes will serve you well for many paintings.
One layer is enough but if you want deeper opacity or to cover up underlying layer you will need second coat.
Pebeo paint dries to a rather matt finish, almost non reflective.
With good brush – almost no visible brushstrokes and smooth application. Great for beginner-friendly paints.
Watercolor effects
Pebeo studio acrylic paint can imitate watercolor if you dilute it generously with water.
Thinning Pebeo acrylics is easy – I used water and tested GAC100 – both methods work great.
For glaze effects I'd prefer GAC100 or Glazing medium over water.
---
Lightfast pigments
Pebeo adapted ASTM D 5067 classification of lightfast colors:
I or ***: very lightfast
II or **: lightfast (good lightfastness)
III or *: low lightfast
In general lightfastness label shows that the brand has used some methods to choose how durable and fade-resistant acrylic paint is.
Most of Pebeo acrylics are very lightfast meaning they can withstand daylight coming through glass and fluorescent light with little color change over time.
Typically, experts say that this "over time" is around 100 years for indoor use and proper care for the painting.
Pebeo Studio acrylic paint colors lightfastness:
Titanium white, excellent lighfastness, grade I
Opaque primary yellow, excellent lighfastness, grade I
Cadmium yellow medium hue, excellent lighfastness, grade I
Cadmium red hue, great lighfastness, grade II
Primary Magenta, great lighfastness, grade II
Dark ultramarine blue, excellent lighfastness, grade I
Opaque primary cyan, excellent lighfastness, grade I
Phthalocyanne green, excellent lighfastness, grade I
Yellow ochre, excellent lighfastness, grade I
Mars black, excellent lighfastness, grade I
---
Thick Consistency
Pebeo acrylic is creamy, thick but less heavy than professional heavy body paints like Winsor & Newton Pro series for example.
It is an optimal consistency for beginners.
Such thick honey-like consistency allows easy application both for dry or wet brushing techniques.
In general, Pebeo acrylics are suitable for pouring, impasto techniques, rock painting and regular paintings!
---
Opacity
Pebeo labels all have opacity and transparency.
In Pebeo Studio Set that I got the opacity is as following:
Titanium white, opaque
Opaque primary yellow, opaque
Cadmium yellow medium hue, opaque
Cadmium red hue, opaque
Primary Magenta, transparent
Dark ultramarine blue, transparent
Opaque primary cyan, opaque
Phthalocyanne green, transparent
Yellow ochre, opaque
Mars black, opaque
Here is the actual swatch of Pebeo opacity I made:
As you can see, the labels are correct and there are a few transparent colors.
You can increase opacity by adding a few layers or mixing the color with a bit of white.
---
Drying qualities
As all acrylics, Pebeo dries very fast.
In my tests, Pebeo acrylic paint dried in under 5 minutes to touch if the layer is thin.
Which makes it dry very quickly on palette as well. I recommend squezzing only the color you work with or use GAC100 to extend the drying time a little bit.
To varnish paintingmade with Pebeo acrylics, the brand recommends to wait 8 days max.
---
Mixing and blending
As my Pebeo set has all primaries in warm and cool temperatures – mixing is so easy!
Colors also mix in a matter of second, you don't have to go over and over to get a proper mix – can be mixed even with a brush.
Blending is also possible, the trick is to work very quickly with slightly wet brush.
Otherwise blending with Pebeo may be a challenge.
---
Price
Pebeo studio acrylics come at a very affordable price – a set of 10 acrylic colours costs around $17-23 on Amazon.
Even professional line is not that expensive compared to Golden.
Pebeo Pro acrylics cost just under $10 per tube while other artist grade paints can cost up to $20per tube.
Free Brush
Even though it is great to have a free bonus in your painting set, sometimes it is not worth it.
In this case, the free brush that Pebeo set comes with is simply bad.
It is synthetic but made very cheap, it doesn't hold its shape even being completely new.
It has streaky coverage, leaves brush makrs and is very stiff.
The wooden handle wasn't sanded well enough to be nice to hold in hand.
Overall, bad brush for a beginner, you won't use this brush unless for some scumbling or dry brush effects.
---
How to use Pebeo acrylic paint?
Pebeo acrylic paint can be used on paper, canvas, cardboard, and wood just as any other acrylic paint.
---
FAQ
What type of paint is Pebeo?
Pebeo sells different paints: oil, acrylic, gouache and watercolor. Pebeo acrylic is a water-based paint that comes in two series: for students and for professional artists.
Is pebeo acrylic paint non toxic?
Pebeo acrylics are in line with US and EU standards and are non-toxic for painting.
However, some pigments still contain very very low amount of some chemicals to produce higher quality pigments.
Where is pebeo paint made?
Pebeo acrylic paint is designed in France but most paints are currently made in China.
Whether you choose to go with Pebeo or with an alternative, I'm sure now you know more about these paints.
Next time you see them in the store, and if you need to try something new or simply cannot find a color you need, you can count on Pebeo!