Liquitex is probably the art brand name that we hear from every corner. Is it just a hype?
To be honest, no. My Liquitex Basics acrylic paint review will show you that they are truly one of the best acrylic paints on the market for beginners.
I have a few colors of Liquitex Basics and I also bought a whole set of 12 colors for this review. But I got it during my trip to Japan and their they call it regular!
Funny enough, I didn't know Japan had different style. But the brand reassured me that the quality is exactly the same.
Before we move forward and if you have watched my video review already, here is a useful book for understanding Liquitex paints: Liquitex Acrylic Book.
Now, let's jump in.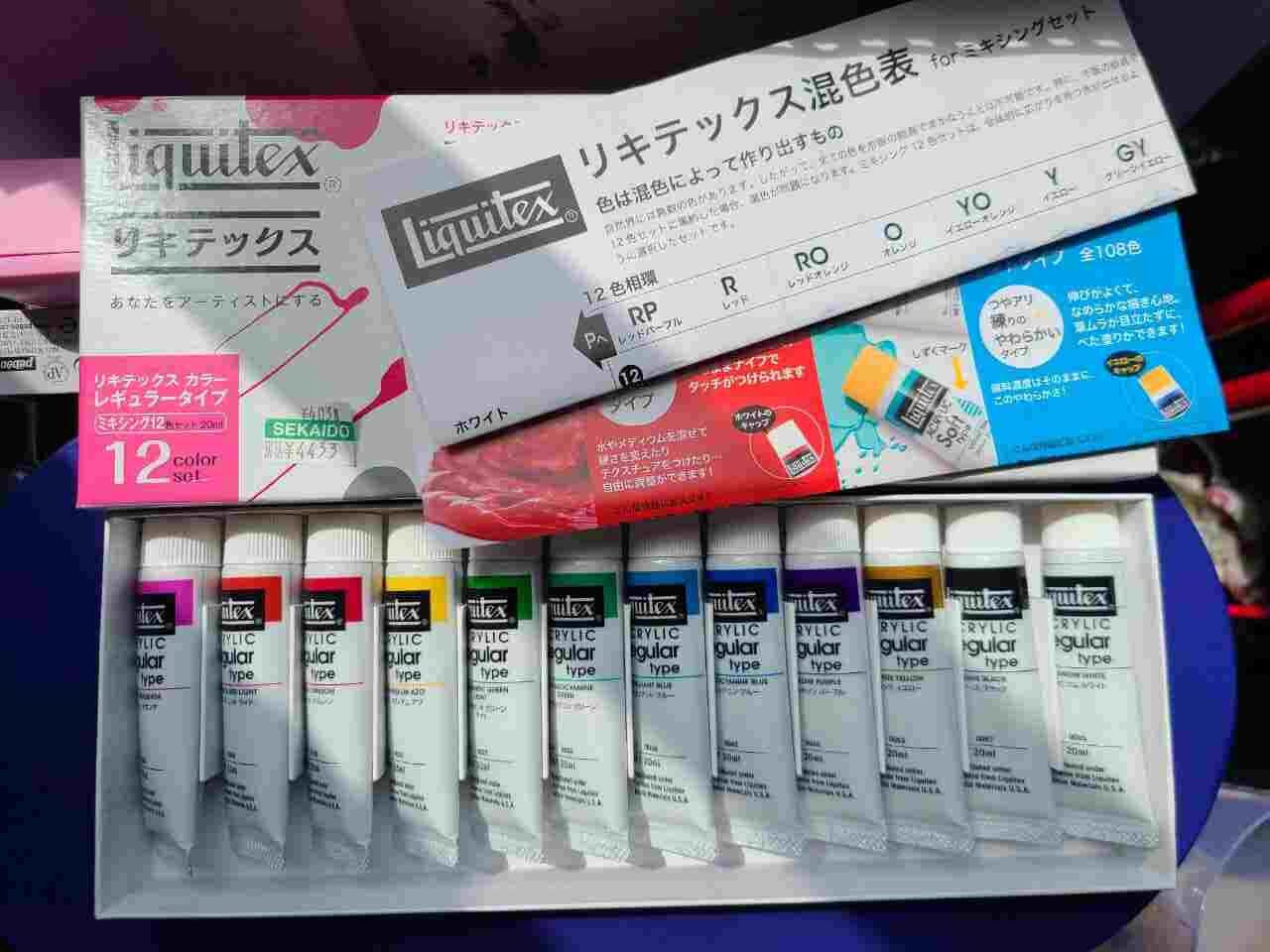 This article contains affiliate links. It means no extra cost for you but a little commission for me to support my hobby and blog. Thank you!
Is Liquitex Basics Student grade or Artist-grade paint?
Liquitex Basics are student-grade acrylic paint for beginners while Liqutiex Heavy Body is a professional, artist-grade paint, for experiences artists.
Student-grade paint means less pigment load in general, more filler and less single-pigmented colors.
At the same time, artist-grade acrylic paint has no fillers. The colors are mostly single-pigmented which is more expensive to produce and gives higher quality.
Other student grade paints are Winsor&Newton Galeria, Pebeo Studio, Amterdam Standard Series, Blick etc.
---
Liquitex Basics At A Glance
Liquitex Basics acrylic paints are one of the best acrylic paints for beginners that are easy-to-use and performant.
72 colors range, including a few iridescent and fluorescent colors.
Mixed and single pigmented colors
Medium viscosity (in between heavy and soft body)
Student-grade acrylic paint. Best for students and beginners.
Water-based, water-soluble, water-resistant when dry
Excellent lighfastness makes paint UV resistant
Permanent
Non-toxic
---
My Liquitex Basics Acrylic Paint Review
Packaging/Tubes 5/5
Performance 5/5
Drying 5/5
Ease to use 5/5
Price 4/5
TOTAL: 4.8
I only gave 4 for this specific set's price as the paint is amazing but I know that Winsor & Newton Galeria set is also great and cheaper.
What I like:
Performance. Liquitex basics acrylic paints have great coverage, vibrant colors and easy to use.
Colors and how they mix – beautiful! Brillian blue and Magenta are my favorites.
Amazing value for money
Brand. They have wonderful resources on their website and very transparent about everything.
What I don't like:
Price. Almost $30 on Amazon for the set.
Often, paint supplies are cheaper on Blick art materials, but surprisingly it is not the case with Liquitex (at least for times I checked), Liquitex is around $5 cheaper on Amazon.
So check both!
---
Liquitex acrylic paint colors
My set, Regular acrylics (Japan) colors (12 x 20 ml):
Medium Magenta
Naphthol red light
Pyrrole Crimson
Yellow Medium Azo
Permanent Green Light
Phthalocyanine Green
Brilliant blue
Phthalocyanine Blue
Dioxazine Purple
Bronze Yellow
Mars Black
Titanium White
Liquitex Basics colors (US set):
Primary Yellow
Cadmium Orange Hue
Alizarin Crimson Hue Permanent
Primary Red
Dioxazine Purple
Primary Blue
Phthalocyanine Green
Permanent Green Light
Burnt Sienna
Burnt Umber
Mars Black
Titanium White
My set came with the full color chart of all colors available in the line.
As you can see, my Japanese set has more reds and the US set has more brown shades. I don't know why the difference, but I would say it is not changing much the possibilities of working with both sets equally.
I must say that the Brilliant Blue in my set is probably one of the most beautiful blue colors I've seen in paint sets.
Make sure to make your color swatches on small pieces of paper before you start painting.
It helps with color choice.
Upgrade your collection each time you mix the new color and add a note on the back of the paper saying what colors you mixed and in what ratio.
Regular Japan vs Basics (World)
Just a quick note to address the "difference" in color.
Even though the package looks different, the brand and my test confirmed that the Regular and Basics Liquitex are absolutely same paints with the same colors:
Comment from the Liquitex brand:
"I can confirm that the only difference is the tube size and packaing. The product inside is exactly the same, and are shipped from France.

Liquitex Heavy body is also called Regular Body in Japan.

​All products are checked by a specialist in Japan, so I can assure you that the paint is genuine."

Liquitex Support Team
---
Tubes
There are 2 different types of tubes for Liquitex Basics acrylics.
One is distributed in US, UK, Europe and pretty much everywhere – black tubes with transparent front. They have info about opacity, lightfastness and the pigment used.
Another paint tube is the one I got in Japan – they have a completely different packaging design: white tubes with label Regular type. It is the same Basics line but packaged for Japanese market.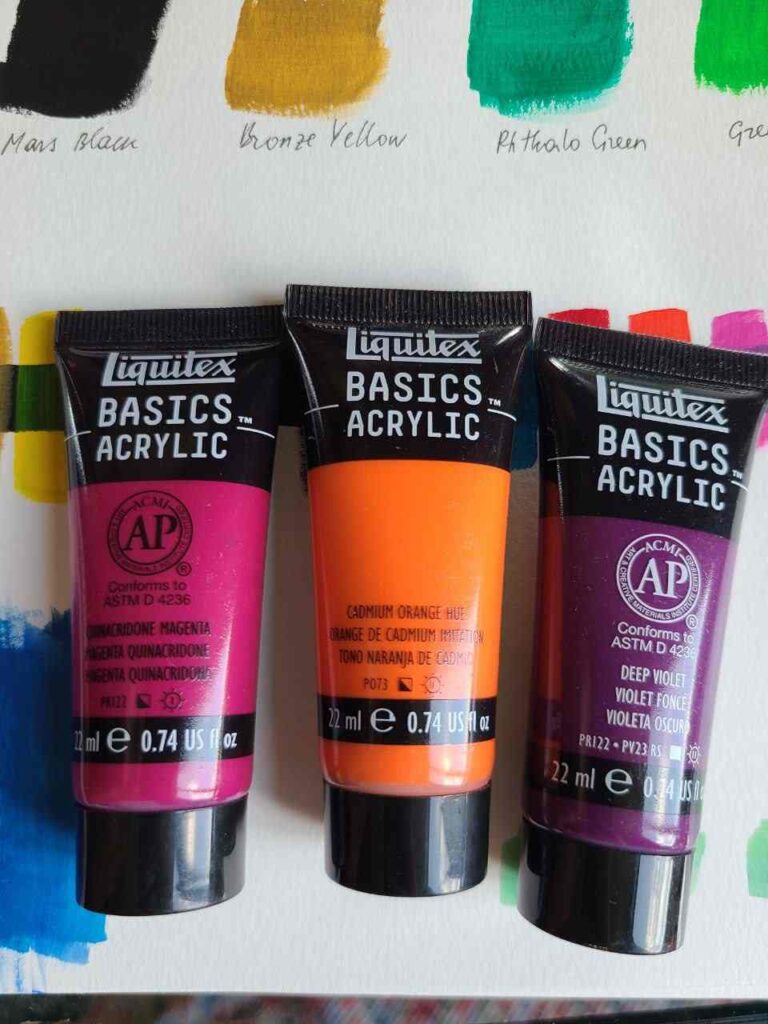 This tube though has different info on the front and back and it isn't transparent to show you the color. The label tells you about Munsell system of the colors, chroma and value of each, pricing range, opacity, pigments used.
The tubes aren't sealed and they are filled just to the right point. You can safely open the lid and paint directly from the tube or squeeze onto a palette.
With some paints, as soon as you open the cap, already some paint comes out and you end up wasting some anyway.
---
Consistency
Liquitex Basic acrylic paint consistency is creamy, thick, soft and applies smoothly.
No lumps, no separated binder comes out from the tube. Pure color with homogenous consistency, ready tobe used.
---
Quick-drying
Liquitex Basics are as quick-drying as all acrylic paints but still not too fast drying.
They still allow you to work, blend, refine the brushstroke and use the paints from the palette within 15 to 30 minutes.
To extend this time I'm using Golden GAC100.
---
Color mixing and blending
Liquitex colors mix and blend amazingly within seconds. Mixing custom colors is fun.
New colors are as bright and opaque as colors from the set, easy to change value or transparency by adding white color or water.
Blending with Liquitex is fast, easy and satisfying.
Colors are blendable directly on paper, with slightly wet or dry brush, leaving only soft edges in between colors.
For beginners blending wet may seem easier, especially if you used to paint with gouache or watercolor.
---
Lightfastness
Liquitex acrylic paint is lightfast.
Most Liquitex colors have excellent to good lightfastness which means a painting will last up to 50-100 years with proper care, without fading or yellowing.
Each US tube has a mention of lightfastness. Japanese tubes don't have it, but you can find lightfastness of every color in Liquitex Acrylic Book.
---
Opacity
Liquitex Basic colors offer greater opacity than most student-grade acrylic paints.
In my set, Regular acrylics (Japan) colors (12 x 20 ml), there are 5 transparent and 7 opaque colors, the opacity is as following:
Medium Magenta, opaque
Naphthol red light, transparent
Pyrrole Crimson, opaque
Yellow Medium Azo, transparent
Permanent Green Light, opaque
Phthalocyanine Green, transparent
Brilliant blue, opaque
Phthalocyanine Blue, transparent
Dioxazine Purple, transparent
Bronze Yellow, opaque
Mars Black, opaque
Titanium White, opaque
I alsodid a test and it confirmed the label, I tested covering the black line with only 1 coat of each color.
The opacity of Liquitex Basics colors in the US set:
Primary Yellow, semi-opaque
Cadmium Orange Hue, transparent
Alizarin Crimson Hue Permanent, transparent
Primary Red, semi-opaque
Dioxazine Purple, transparent
Primary Blue, semi-opaque
Phthalocyanine Green, semi-opaque
Permanent Green Light, opaque
Burnt Sienna, opaque
Burnt Umber, opaque
Mars Black, opaque
Titanium White, opaque
---
Coverage & Finish
Painting with Liquitex is a pleasure, the paint flows, colors adhere beautifully, no brushstrokes.
Liquitex dries to a satin finish, slightly shiny.
The finish is smooth and even but not chalky as I saw with some cheaper acrylic paints.
No color shifting between wet and dry paints.
---
Techniques
Liquitex Basics acrylic paint is an amazing tool for beginners to learn different techniques in acrylic painting: from simple dry brushing to layering, glazing, and even palette knife application.
The ease of use of this paint and how Liquitex makes it effortless for you to paint is impressive.
It does feel easier to paint with Liquitex than with some cheaper paints.
---
Price
I think Liquitex is on the pricier side.
I find Winsor & Newton student-grade acrylics to be more affordable and yet, just as performant.
Read also:
---
Liquitex Basics vs Professional
Liquitex Basics and Liquitex Professional (heavy or soft body) are two different lines of acrylic paint produced by the same company.
Here are some differences between the two:
Quality: Liquitex Basics is a student-grade paint, while Liquitex Professional is an artist-grade paint. Liquitex Basics has a lower pigment load and is designed for beginners and students, while Liquitex Professional has a higher pigment load and is designed for professional artists.
Design: Professional line has white tubes with label "Liquitex Professional" while Basics series has black plastic tubes with transparent belly to show the color.
Color range: Liquitex Professional offers a wider range of colors than Liquitex Basics (116 colors vs 72 colors). This is because Liquitex Professional uses a wider range of pigments, including some that are more expensive and harder to find.
Consistency: Liquitex Professional has a more consistent viscosity across colors and finishes, has heavy-body paints, while Liquitex Basics can have some variation in consistency between colors and finishes and leans more to soft body.
Price: Liquitex Basics is much more affordable than Liquitex Professional. This makes it a good choice for beginners or those on a budget. For ex., Basics set of 12x22ml costs around $30, while the same Professional paint set costs around $43.
Toxicity: Professional line has a cadmium-free option for some colors. Liquitex Basics line is non-toxic but does contain some harmful elements in safe amounts.
Techniques: While both paints can be used for a wide range of acrylic painting techniques, Professional paint will be better for texture and impasto.
Key takeaway:
Liquitex Professional is a higher quality paint than Liquitex Basics, with a wider range of colors and more consistent viscosity.
However, Liquitex Basics is still a good quality paint that is more affordable and suitable for beginners or hobbyists.
---
Is Liquitex Basics better than Golden?
Golden will be better than Liquitex Basics as it is highest-quality professional paint for artists, while Liquitex Basics is a student- grade paint.
Liquitex and Golden are both popular brands of acrylic paint, but Basics series has some differences in terms of quality and price.
In general, Golden don't make student-grade paints at all. Only professional artist-grade acrylics.
Liquitex Basics is more affordable than other Liquitex lines or Golden and has a lower pigment load, which means that the colors are not as intense or vibrant as those in Golden.
Golden, on the other hand, is more expensive than Liquitex Basics, but they offer a wider range of colors and are more vibrant and intense.
---
Acrylic Painting with Liquitex FAQ
Is Liquitex good acrylic paint?
Yes, Liquitex is a good and reliable brand of acrylic paint. Liquitex is a well-known and respected brand of student and artist-grade acrylic paint that has been around since the 1995.
They offer a wide range of high-quality acrylic paints, including heavy body acrylic, soft body, inks, and acrylic gouache paints, as well as a variety of mediums, varnishes, and other accessories.
Liquitex acrylic paints are known for their high pigment load, smooth consistency, and excellent lightfastness. They are also water-soluble, making them easy to work with, blend and mix colors, and clean up.
Liquitex paints are popular among artists, illustrators, and designers for their versatility, durability, and color range.
Is Liquitex basics artist quality?
No, even though Liquitex basics offers amazing value for money and outstanding quality, it is student-grade paint. Only Liquitex Heavy Body is artist quality paint.
How long does Liquitex acrylic paint last?
A varnished painting made with Liquitex acrylic paint will last for 50-100 years in gallery conditions or with proper care.
Liquitex paint is very durable and fade-resistant so it can last very long time.
Liquitex acrylic paint shelf-life is up to 15 years unopened.
Do I need to seal Liquitex acrylic paint when dry?
While Liquitex acrylic paints are water-resistant and durable when dry, it is recommended to seal them with a varnish or other protective coating to further protect the surface of the acrylic paintings.
Sealing the painting can help to prevent damage from UV light, moisture, and other environmental factors that can cause the paint to fade, crack, or peel over time.
Liquitex has a range of varnishes: matte, satin and gloss.
Do Liquitex acrylic paints take a long time to dry?
Liquitex acrylic paints is quick-drying and yet gives you enough time to blend or mix colors and work on canvas. Liquitex Basics take around 5 to 15 min to dry on paper or canvas.
Are Liquitex acrylic paint good for brush painting?
I tested Liquitex Basics and Regular with brushes and palette knife. Liquitex is amazing acrylic paint for brush painting, with both dry or wet brush.
Is Liquitex acrylic paint non toxic?
While Liquitex is approved as non toxic acrylic paint, some colors do contain a very little, safe amount, of chemicals and harmful elements, like Cadmium, Titanium Dioxide, Manganese, oxides of Cobal, etc.
is Liquitex acrylic paint water based?
Almost all acrylic paints are water-based and water-soluble, including Liquitex.
Can you use Liquitex acrylic paint on fabric?
Liquitex acrylic paint can stick to almost any porous surface, including fabric and denim. You need to properly prepare and seal the fabric though to make the paint permanent and washable.
Despite the price, Liquitex Basic acrylic paint is truly great value for money and an amazing tool for beginners and painters in transition to professional paints.
Learning color theory, techniques and how to use acrylic paint with Liquitex is something you will look forward to and quickly feel success.
I've tried many different acrylic paints and I personally think that Liquitex, Golden and Winsor&Newton are top-3 best acrylic paint brands on the market.