Epoxy resin is a trending craft for so many DIY projects! I made a resin ocean art, coasters, jewelry, but I am always scared of making a cutting board or a tumbler and we are all probably worried, is epoxy food safe after all?
This is actually an important question because epoxy was first introduced for industrial purposes and it may leach harmful chemicals into our food.
And I'm not willing to die after a lovely evening date with cheeses served on my freshly made epoxy charcuterie board haha.
In this blog post, we'll answer the burning question: is epoxy food safe and what brands are safe to beused with.
Buckle up for a fascinating journey into the world of epoxy and food safety.
This article contains affiliate links. It means no extra cost for you but a little commission for me to support my hobby and blog. Thank you!
---
Is epoxy food safe?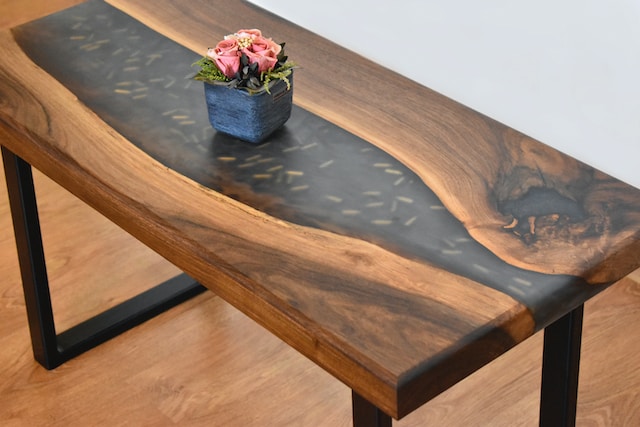 Fully cured epoxy resin is food safe ONLY for accidental and short contact with food.
Liquid epoxy resin is NOT food safe in liquid state. It is also not safe if not fully cured, or if it was heated. Resin is not food safe for extended contact with food.
Food safe epoxy should have FDA approval label and you should follow exact instructions to make sure it will dry completely.
Adding glitters, dyes, inks and other decorations can make epoxy resin no longer food safe. Unless you are using special food grade powders.
Epoxy itself is not edible.
In general epoxy is food safe to use on resin art:
Charcuterie boards
Cutting boards
Serving trays
Fruit bowls and dishes
Epoxy resin tables and countertops
Tumblers
Knives
Mugs
Coasters
Wine holders
---
Why Could Resin Potentially Be Hazardous To Your Food?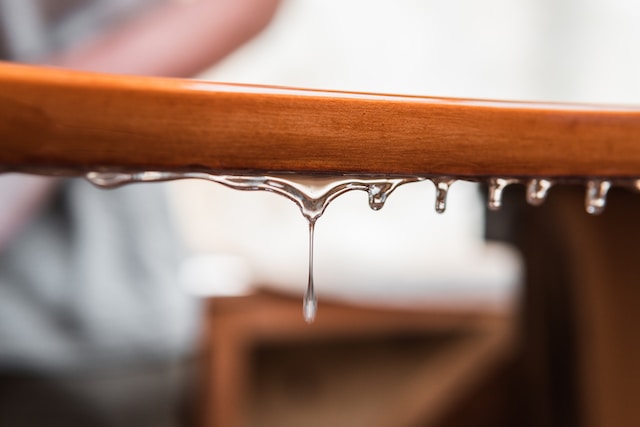 Epoxy resins' chemical components are the main source of concern.
Bisphenol A (BPA) and F (BPF), Phenol, VOCs (volatile organic compounds), and Prepolymers are some of the toxic ingredients in resins that can make it not safe to use on food contact surface.
Also, let's not forget that epoxy resin was never antibacterial! Your food tray can be a heaven for microorganisms.
Third concern is the making process itself. Resin is non-toxic and food safe ONLY if it is completely dry and cured.
But oh boy do we know that things can go wrong?
Even in my experience epoxy resins often fail to fully cure if the correct mixing and curing procedures are not followed or it was simply too hot in the room or we made a thicker resin layer.
Because of its uneven, porous surface, uncured epoxy can absorb and release toxic substances.
Some harderens still contain amines, avoid them at all costs as amines can contaminate food and it will lead to death.
But there are good news too, let's dig in.
---
What is BPA?
Bisphenol A (BPA) is primary component of most epoxy goods, some metal and plastic containers, and it has amazing curing properties.
I've read somewhere that brands started using it around 1960 and even today, around 60% of resin products still contain BPA.
BPA is especially dangerous when heated. It can lead to a variety of health problems, including disruption of hormone function and an increased risk of several malignancies.
Especially when exposed to high temperatures or when in touch with acidic or fatty foods, BPA can leach into food and be consumed.
California Office of Environmental Health Hazard Assessment sees Bisphenol A as a carcinogen dangerous for women, but the studies were more for canned foods than for epoxy resin.
However, even though the BPA is still under close watch, FDA says that low levels of BPA are safe.
It means there is nothing really to worry about, but do check for BPA in resins and also check what metal cans or containers, caps, and plastic containers you are using.
If they contain BPA or labeled with 3 or 7 recycle code, do not heat them and do not consume food from such heated containers!
---
What does FDA approved epoxy resin mean?
The United States Food and Drug Administration (FD is an American institution that comes up with several regulations to make sure products are safe to use.
The FDA's Title 21, Volume 3 regulates food safe epoxy.
If the epoxy label mentions that this resin has FDA approval, it means that the brand invested tons of money and time in long and extensive tests to prove that their products are food safe for both direct and indirect contact with food.
CFR 175.300 code regarding resinous and polymeric coatings tells us that the resin can be used for sealing surfaces and appliances that can be in contact with food.
FDA CFR 177.2600 regulates Rubber articles intended for repeated use and states that the product is food safe and can be used for food packaging.
But it's in US. What about other countries?
Well, it is up to each country in EU and abroad to regulate safety of using epoxy. So if you are shopping outside US looking for FDA codes may not help much.
For European – Union check Food Contact Plastics Regulations EU 10/2011
In Great Britain GB 4806.7-2016 National Standards For Food Safety regulates the matter
In Australia – AS 2070-1999 Plastic Materials For Food Contact Use
For Canada – Canada Consumer Product Safety Act SOR 2018/83
---
Should You Be Worried?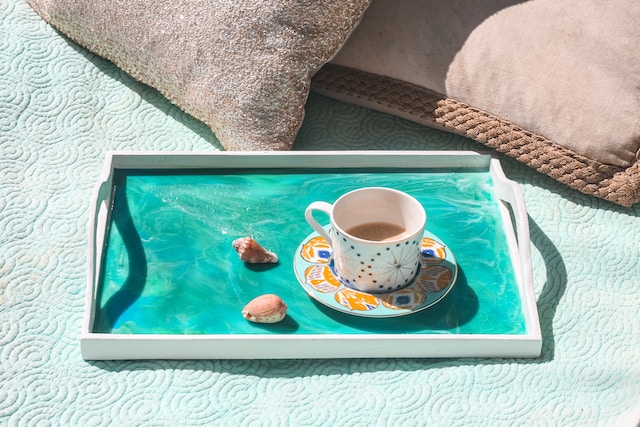 It's important to be cautious, of course, but it's also vital to not overreact.
Yes, poor curing can pose a concern, and some epoxy resins may include toxic substances like bisphenol A.
But not every epoxy resin is the same. There are epoxies available that are approved for use in direct contact with food.
Epoxy resins intended for use in the food industry have passed all the necessary tests and meet all the requirements of the FDA and other food safety agencies.
They're specifically designed to prevent chemical leaching even when exposed to high temperatures and acids.
Takeaway:
look out for BPA but keep in mind that low levels and no heat exposure are safe to go
if worried look for aliphatic and cycloaliphatic hardeners for food safe epoxy.
no amines in hardeners.
Look for FDA approved codes
do not use epoxy-covered utensils with excessively hot foods, do not heat items made with epoxy above 165F (70C)
which means – no microwaving and often no dishwashing
avoid strong cleaning chemicals for resin crafts
never scrub or leave deep cuts in epoxy cutting boards or epoxy resin surface
disinfect the resin surface after each use.
---
Is It Safe To Use Epoxy On Cutting Boards?
Yes, as long as you use a food-safe epoxy and allow it to fully cure, you may use it on cutting boards.
*I would not use it on cutting board you use for heavy chopping or cut products daily. Deep cuts are not good for resin*
These epoxy resins have been precisely designed and tested to guarantee that they are safe for direct food contact.
When correctly mixed and cured, food safe epoxy resin creates a hard, non-porous, and inert plastic finish.
It is not yellowing, durable, has maximum uv resistant properties, and scratch resistant.
As a result, it will not leach chemicals into your food or harbor microorganisms, making it suitable for cutting boards.
But there are still a few caveats, for example, don't place hot pans or dishes on the cutting board, don't scrub it too much when washing it.
And make sure that It's been mixed properly and allowed to cure for the right amount of time.
If you see deep cuts from the knife or weird discoloration, or you think the resin became tacky, immediately stop using this board with any food or kitchen utensils.
---
Best Food Safe Epoxy Resin
You can find many epoxy resins that are safe for food consumption and of good quality in the market.
When choosing a product, remember to read the safety sheet, product description and check for FDA compliant approval code CFR 175.300 in the US (or a relevant code in other countries) or FDA CFR 177.2600.
The best food safe epoxy resin for crafts is Art Resin epoxy. For countertops the best food safe resin is Stone Coat Food Safe Resin.
These are some options that people tend to prefer:
It's a great choice because it has a clear finish and is easy to use due to its low viscosity.
This product is safe for brief, even direct, contact with food and meets FDA regulations both CFR Title 21, Part 175.300 and 175.105. It also has great resistance to chemicals, water, and abrasion.
Can be used even for countertops made of wood, concrete, stone (in bigger volume, of course).
---
ArtResin
It's safe for use as this resin has undergone 13 different food safety tests and is certified non-toxic and BPA-free.
This product is made with artists in mind, but it's also safe for use with food once it's fully cured. This means you can use it to coat surfaces that come into contact with food without any worries.
The great thing is that it is also available in many countries: US, Canada, Australia, Europe, UK, New Zeland and Mexico.
---
This epoxy is designed to be user-friendly with a simple 1:1 mixing ratio.
The resins are great for crafts, have low-odor and contain no VOCs.
It's safe for food contact as it is BPA-free and compliant with FDA regulations. But also the product has passed a few environment tests.
Downside for me is that there is only 2 volumes available: 16 oz or 1 gallon.
---
Alumite only has one resin that is food-safe – Amazing Clear Cast by Alumite comply with FDA CFR 177.2600.
You will see that even though this resin contains BPA, it passed FDA checks.
But the items will not be dishwasher nor microwave safe. Also cannot be used with hot food or drinks.
---
This brand doesn't have yet an FDA approval.
Even though the resins they make use bio ingredients, they are only food safe for short contact with food.
However, the brand is very eco-friendly and the durable epoxy is good for thick pours like countretops and tables.
I would not use this epoxy for plates or kitchen utensils that come in direct and extended contact with food.
Also, I find this resin quite pricey – $80+ for 1,5L.
---
High-quality food safe and non-toxic coating resin for countertops that is also heat resistant.
I'd say it is the best option for creating beautiful countertops, as they not only made resin formula specifically for top coating the kitchen counters, but also came up with kits.
Such kits include both resin and colors to create absolutely amazing effects, including marble countretops effect!
---
Environmental Technology brand has come up with a self-leveling high gloss finish.
Now, some other blogs and marketplaces, stated that these resins are food safe. So, I went on the data sheet and can't find any confirmation that they actually compliant with FDA (FDA 21 CFR 175.300 as description says).
They seem to have no VOCs, still possible to cause skin reactions, but sounds like as long as properly cured can be in very short contact with food. So, probably only for tables.
---
*ProMarine now rebranded as Promise Epoxy*
This resin works well for table tops, river tables, but also can be used for coasters.
No direct contact with food. Even though, this resin has no VOCs, and stated to have FDA CODE 300, I have not seen the safety data sheet to prove it.
---
Said to be not only food safe, but also heat resistant, which makes it great for coasters and tumblers.
It doesn't contain BPA and VOCs.
Keep in mind that adding pigments can make resin be no longer food safe. Use additional clear coat on top.
---
Even though this is a craft brand, Nicpro resin is FDA certified and can be safe to use on surfaces that may contact with food.
One of the big advantages of this resin is affordable price compared to other professional resins.
I would not use it for countertops, but can be a good option for coasters or tumblers, or anything of a smaller scale.
---
Another affordable option for small resin crafts that can be safe tocontact with food is Demorex epoxy.
This epoxy is BPA and VOCs free, and complies with FDA regulations. It is an eco-friendly options for crafters.
---
One more cheap options for small crafts – Craft Resin's epoxy.
It doesn't have an FDA label but it is said to be tested by a 3rd party and found to be absolutely food safe, with no toxins leaching. It has no VOCs, solvents or strong odor either.
---
It's important to keep in mind that no matter which brand you go with, taking the time to properly prepare, mix, and cure your product is essential for making sure it's safe and works as intended.
Most brands will also mention that the food safety is only guaranteed IF you follow the suggested ratio and curing time.
Read also: 73 Amazing Resin Mold Ideas + DIY Mold for Epoxy Recipe
---
How do you make epoxy resin food safe?
The key to make epoxy food safe is to properly cure it.
When you buy epoxy kit, it comes with 2 bottles – resin + hardener.
Now, each brand has its own ratio to go with and recommended curing time. It is crucial to follow these instructions diligently, otherwise not me nor the brand can guarantee you the food safety.
Let's say the ratio is easy 1:1. Pay attention what the guidelines call for – measure by volume or by weight. And get the simple digital scale if you need to weight it.
Measure the resin and the hardener
Start mixing. Mix well but don't be chaotic, slowly mix for 5 minutes min. until the mix is clear and not cloudy. It is very important as it will affect curing and food safety.
Remove bubbles with heat gun or bubble removal machine.
Work in coats. For top coat as a seal use 2 coats.

If making some art, I usually go with thin layers, especially if there are decorations or colors I will add.

Wait as long as the instructions tells you. It can be a few days or a week. Be patient. If there is any sticky parts or uneven parts – the item is not food safe.
---
FAQ
What kind of epoxy is food safe?
All epoxy is food safe once fully cured but only for short contact with food. Special FDA approved food grade epoxy is better choice for kitchen ustensils and surfaces.
How long until epoxy is food safe?
Epoxy is food safe after it is fully dry – up to 7 days depending on the brand. Follow the instructions and wait until the resin is cured.
Is epoxy food safe once cured?
Yes, epoxy resin is absolutely food safe once fully cured. It is considered cured when there isno sticky areas or uneven coverage.
Is it safe to put food on epoxy resin?
It is not recommended to eat directly from plates coated with epoxy resin. However it is safe to put food on epoxy resin for a very short time.
How do you make resin cutting boards food safe?
To make resin cutting boards food safe only use FDA approved food grade epoxy, mix it very well and allow it to fully cure. If you used any decorations or powder dyes, apply addition clear coat of food grade epoxy over it.
Is there a food safe resin?
Technically all modern craft resin is food safe for short contact with food and drinks. But there are special food safe approved resins like ArtResin, Max Clear and ZDSticky that are especially popular for food safe resin art.
Food safe resin has all the same properties as regular resin and will be just as durable and beautiful.
However, some resins may cause allergic reactions and skin reactions.
What is the best resin that is food safe?
ArtResin is today one of the safest and best resins available for food safe projects. The resin complies with FDA regulations and went through expensive and long tests to be safe for crafters.
Are Epoxy Resin Colorants Food Safe?
Most resin additives including colorant are not food safe unless it is specified otherwise on the label. Do not use alcohol inks with resin if you want it to be food safe.
Is it safe to drink from a resin cup?
It is not recommended to use a resin cup to drink regularly. Especially, resin cups are not good for hot drinks.
Is epoxy safe for food containers?
Even food grade epoxy resin is not fully safe nor recommended to use for food containers as it means an extended contact with food and potential leaking of some chemicals.
Some regular plastic food containers can be heated and washed while epoxy containers cannot be heated at all.
Are epoxy countertops food safe?
Epoxy countertops should be coated with food grade epoxy resin to make them food safe.
Fully cured epoxy countertops are food safe for short contact with food. Do not heat, scrub or use harsh chemicals on epoxy countertops.
---
Wrap Up
When it comes to using epoxy in food-related projects like beautiful charcuterie boards or tumblers, we need to consider its safety.
It's also important to keep in mind that some epoxies may contain harmful chemicals such as BPA and improperly cured resins maybe dangeorus, but not all epoxies are the same.
There are epoxies that are safe for use with food and have been specifically created and tested for that purpose.
Selecting epoxy resin (and worrying about food safety grade), read carefully the chemical composition, reviews, compliances with regulations, and brand safety data sheet.
I recommend looking at food safe resins available in the market such as MAX CLR, ArtResin, Stone Coat Countertops Epoxy, and ZDSticky Epoxy Resin that you may find useful.
Those epoxy resins are safe for food and have been designed to reduce the possibility of any chemicals leaching into your food.
Just like any other product though, it's essential that you make informed decisions and do your research before using epoxy resin utensils.
I hope I helped you tame your anxiety and you are ready to embark on your resin art journey.
If you are still hesitant about making something that interacts with food directly, try this ocean resin art tray tutorial I made this spring.