As a newbie painter, gathering the painting mediums can be such a headache—from paints, and brushes to painting surfaces or supports, such as canvas. Acrylic paint, which is ideal for beginners, is affordable, but canvas can be quite pricey. The alternative? Paper. This material can be found everywhere, but the question is: can you use acrylic paint on paper?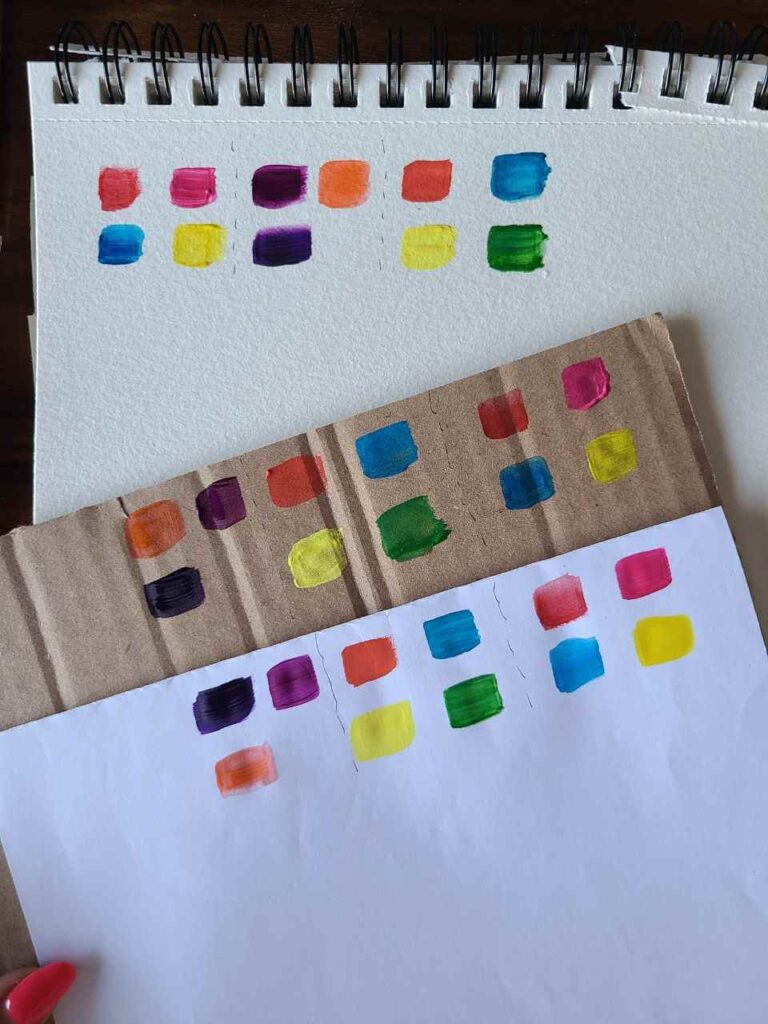 You can use acrylic paint on acrylic, canvas, and watercolor papers. They are smooth and sturdy against bumps, cracks, bleeding, warping, and chemical changes. Plus, these papers are affordable and great for beginners. And among all kinds of paper, acrylic paper has all the characteristics ideal for acrylic painting.
You don't have to paint on gazillions of paper just so you can identify the best ones for acrylic painting. We've provided everything you need to learn about applying acrylic paint on paper.
Can You Use Acrylic Paint on Paper?
Absolutely yes! Acrylic paint is a flexible paint that works on different areas, especially on paper, which is the perfect painting surface for beginners. Paper is super affordable, lightweight, and portable!
You may be wondering: Does it work with any kind of paper? To get you started, let's name some commonly used paper products and see if they are the good and the bad ones for acrylic painting.
Types of Paper for Acrylic Painting
As you can see from the table you can use acrylic paint on paper on any kind from newspaper and cardboard to heavyweight watercolor or mixed media paper. You should not however use acrylics on thin and glossy surfaces like magazines, tissues, and book paper.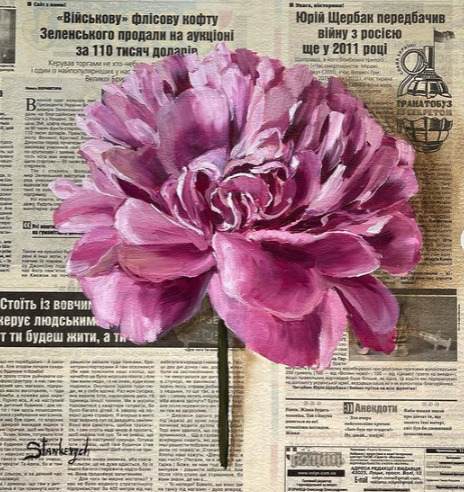 | | | | | | | |
| --- | --- | --- | --- | --- | --- | --- |
| Type of Paper | Good for Acrylics | Heavyweight | Thick | Absorbent | Color | Paper Finish |
| Newspaper | ✅ | No | No | Yes | Pale gray | Semi-rough |
| Printing paper | ✅ | No | No | Yes | White | Smooth |
| Sketchbook | ✅ | Yes | Yes | Yes | White, tan, or blue | Smooth |
| Glossy magazines | ❌ | Yes | Yes | No | Colorful | Coated |
| Cardboard | ✅ | Yes | Yes | Yes | Light brown | Rough |
| Paperboard | ✅ | Yes | Yes | Yes | orange-brown | Rough |
| Paper utensils | ✅ | No | No | Yes | Cream or brown | Smooth |
| Paper towel | ❌ | No | No | Super | Cream or brown | Very rough |
| Tissue and toilet papers | ❌ | No | No | Super | White or grayish-white | Rough |
| Book paper | ❌ | No | No | Yes | White or cream | Uncoated |
| Tracing paper | ❌ | No | No | No | Clear | Smooth |
| Watercolor paper | ✅ | Yes | Yes | Yes | White or cream | Smooth, semi-smooth, or rough |
| Yupo paper | ✅ | Yes | Yes | No | White or translucent | Smooth |
| Bristol paper | ✅ | Yes | Yes | Yes | White | Smooth or vellum |
| Acrylic paper | ✅ | Yes | Yes | Yes | White or cream | Semi-rough or rough |
Read also: Can You Use Acrylic Paint on Watercolor Paper? 5 Steps to Do It & Best Papers
---
What Paper Is Best for Acrylic Painting?
Choosing the right paper is one of the best things you can do before acrylic painting. Here are the factors you should consider before buying paper:
Weight (GSM)
pH level
Texture
Warpage
Blendability
Weight
The paper's weight is vital to acrylic painting. The thicker the paper, the more heavyweight it is. Thus, the heavier the paper is, the greater it is for painting.
You need a thick paper when you use water-soluble acrylic paint and bristly paintbrushes. Papers weighing 140-185 lbs (207-273.8 gsm) usually buckle with little water.
A 110-lb paper would be fine for sketching and rough work, but if you'd like something heavier for professional use, a 185-lb (273 gsm) paper might work for you.
Ideally, a 200-lb (300-gsm) paper is heavyweight and thick enough to withstand or resist buckling and tearing while painting with acrylics
pH level
You should buy acid-free paper for acrylic painting because acidity can affect your paper's durability. As paper becomes older, acids can cause chemical changes—yellowing or worse, browning. In turn, it damages your artwork, putting all of your efforts to waste.
An acid-free paper is made with an alkaline technology, balancing the pH level of paper. Lignins, the parts of plant cells that become acidic over time, are removed to neutralize the wood pulp's pH level. In turn, the paper becomes long-lasting and doesn't deteriorate.
Texture
When you buy paper, you also check the "feel" on your hand or simply its texture, which can yield the brush strokes and paintings.
There are 2 types of paper according to its tooth or texture: hot-pressed and cold-pressed. If you want something rougher, use hot-pressed paper since it has more tooth than cold-pressed paper.
But what if you'd like your cold-pressed paper to be a bit rougher? Try gessoing, a priming technique wherein you add gesso, a substance similar to white acrylic paint, but only thinner.
Gessoing also adds stability to flimsy papers, avoiding any damage and tear on paper. But with high-quality and acid-free paper, you won't have to prime your paper anymore.
Warpage
You also have to consider the paper's warpage or how it buckles when you apply various acrylic painting techniques.
Hence, when you do acrylic painting, you should check if there are concentrated buckling spots on your paper. Usually, the thinner the paper, the more vulnerable it is to warping.
Blendability
How you blend and layer colors on the paper is also vital to acrylic painting. When you add water, the paint may create piles on the paper surface, giving you a hard time blending colors together.
---
Types of paper for acrylic painting
Watercolor paper (Best for beginners)
Canvas paper (Best in performance)
Acrylic paper (Overall best)
Mixed media
Synthetic paper
Cardboard
Handmade paper
Watercolor paper
Watercolor paper is made for watercolor painting, which usually requires a lot of water. In turn, it can cause warpage. But you don't need much water with acrylic paint, so it's safe to say that it's robust with layering.
If you're looking for paper that has amazing blendability, is sturdy against layering and buckling, and can provide you a glass-like finish, use watercolor paper. They also come in various weight ranges and can go beyond 600 gsm.
Canvas paper
Weight and texture are significant factors for acrylic painting, and if you prefer your paper to be rough and heavyweight, canvas paper will be your better choice. Canvas papers can weigh around 180–400 GSM, so it won't tear easily.
But why canvas paper when you can just simply use canvas cloth? That's because it's relatively cheaper than the real deal, especially if you want to play or experiment with acrylics first.
Canvas paper is also framable, so you won't have a hard time looking for a frame that fits your artwork.
Read also: 38 Best Canvas for Acrylic Painting for Beginners that Professionals use
Acrylic paper
Acrylic paper is the type of paper that lives up to its name because it is the ideal surface for acrylic painting. It's the most optimal choice in terms of price, durability, and performance.
First, if you want your artwork to have some canvas texture without breaking the bank, you should opt for acrylic paper. Its tooth mimics a stretched canvas, plus its buffered surface can highlight acrylic paints.
What about its weight and acidity? Don't worry; acrylic paper is acid-free and usually weighs 239–450 gsm. It's also cheaper than a canvas.
Since it's thick and heavyweight, it's also durable against bleeding and warping, so you won't have to worry about your artwork's fine details.
Mixed media paper
Ever heard of a hybrid paper? It's also known as mixed media paper, a combination of watercolor and drawing papers.
So, can we paint on it with acrylics? Definitely! The surface is a bit coarse, thanks to its tooth. It can also handle both dry and wet media, so painting with acrylics, pens, markers, and watercolor will be a great idea!
Synthetic paper
A great alternative to cellulose-based papers is synthetic paper made from polypropylene. You can easily wipe your paint, plus it's water-resistant and recyclable!
But does it work well for acrylics? Yes, it does! It can resist different painting techniques due to its sturdy fibers. Its surface is also non-porous, thereby maximizing smooth acrylic application.
It also comes in different weights, so you can always work with something heavyweight for more durability. However, since it's not easily produced, synthetic paper can be quite expensive.
Bristol paper
Also known as Bristol board paper, this type of paper is also good for acrylic painting. It's made by gluing multiple sheets together before being pressed with a machine.
The process makes the paper thick, heavyweight, and sturdy enough to withstand buckling and bleeding. Its uncoated, white, and semi-smooth surface makes pencil, ink, airbrush, and water-based pens, especially acrylic markers look crisp or edgy.
Cardboard paper
Some don't want to shell out for some paper, and if you're one of them, you can always start with cardboard paper—seen and used everywhere, especially with packaging.
However, cardboard may not be a universal medium, but it's good for acrylic painting. The paint easily sticks to the surface, so you don't really need to gesso it. It also dries quickly!
Handmade paper
As the name speaks for itself, handmade paper is created by manually weaving wood fibers into a layer. Despite the sheet being flimsy and rough, handmade paper is tensile.
The verdict? It can be used for acrylic painting, especially if you want to see the effects of painting acrylic on toothy paper.
You can also use gouache on paper as it works great for illustrations!
Print paper
Print paper is not heavy enough to paint with thinned paint, but for small art, it will work very nicely. The colors pop and acrylics flow smoothly on regular print paper.
---
Best paper for acrylic paint: Overview
After knowing the pros and cons of different paper types, we can now name the cream of the crop or the best of the best paper for acrylic painting.
Overall best paper for acrylic painting: is Canson Montval Acrylic Paper
After assessing various kinds of paper, nothing beats Canson Montval acrylic paper in terms of performance, value, and budget.
This 10-sheet acrylic paper pad is artist-grade, heavyweight, durable, buckle-free, acid-free, and spacious enough for your artwork. It's also 185 pounds for $24 on Amazon, which is affordable!
You'll also be amazed at how the colors stand out, plus you can mix acrylic paint with other media, such as pencil, charcoal, and acrylic markers.
---
Best watercolor paper for beginners: Canson Watercolor Pad
This brand has the best watercolor paper in terms of value. For around $17, you can get 30 acid-free white and 140-lb sheets that are perfect for beginners who want to practice and experiment on cold-pressed surfaces.
You can also use different types of media and painting techniques since the surface doesn't buckle and tear easily. Indeed worth the price!
Other candidates
---
Most valuable acrylic paper for artists: Strathmore 400 Series Acrylic Pad
Though it's a bit more expensive than other acrylic pads (almost ($4 per sheet), you'll never regret buying this cream-colored acrylic pad with linen finish. It has a desirable tooth on the surface, and its acid-free and heavyweight sheets help resist warping, buckling, and bleeding.
More nominations
---
Best budget acrylic paper: Arteza Acrylic Painting Pad
Arteza acrylic painting pad is the best budget-friendly acrylic paper. The quality is way better than most acrylic papers despite its affordable price.
It has two 16-sheet acrylic paper pads with 400 gsm (246 lb.), making it buckle-free. It does have a linen finish, giving you your artwork a desirable texture. What a bargain!
Runners-up
---
Best canvas paper for artists: Canson Figueras Oil & Acrylic Canvas-Like Paper Block
Canvas-like papers are more expensive, so choosing the best of the best is very important, like Canson's canvas-like paper. For its affordable price, you can already buy a pre-primed glued pad.
There are 10 sheets, each made of acid-free wood pulp that is especially thick and heavyweight (290 gsm) enough to resist buckling, bleeding, and aging. Such a steal!
Other nominees
---
Best paper for acrylic markers: Strathmore Bristol Smooth Paper Pad
Whether you're a beginner or a professional, Strathmore's Bristol paper 270-gsm paper is the best for water-based markers, especially acrylic ones. It's smooth, portable, heavyweight, and acid-free—perfect for your fine-detailed artwork.
More nominees
---
Best transfer paper for acrylic paint
Making mistakes is inevitable. However, you can always use transfer paper (or graphite paper) to erase those mistakes without leaving brush marks on your artwork.
So, if you're planning to use transfer paper, choose the Loew-Cornell brand which comes in white or black colors. The good thing about this transfer paper is that it's waxless, bleed-proof, and acid-free.
---
Best acrylic paint for paper marbling
Paper marbling is "painting on water," or simply a technique of making marble-like patterns on water or liquid solution and letting another medium, especially paper, absorb the paint.
Anyone can try DIY paper marbling, yet this unique painting technique is intricate, especially if the paint and paper you're using aren't ideal for paper marbling.
So far, acrylic paint is one of the best paints for paper marbling. However, the paints should be well-balanced so that they don't blend with water and you get to see the crisp edges.
Here's a list of acrylic paints that beginners can use for paper marbling.
Liquitex Medium Viscosity Concentrated Artist Colors
This acrylic paint is very fluid, so you can easily create patterns on water. It's also pigment-rich, so the colors won't wane on paper.
Liquitex Acrylic Ink
Unlike the typical acrylic paint stroked with a brush, acrylic inks are bottled, so you'll need a dropper for the process. Don't worry; a single drop is concentrated and vibrant enough to create a beautiful puddle.
Golden Fluid Acrylics
They are heavily pigmented but have no fillers or extenders. Though having a thick consistency similar to heavy cream is ideal for paper marbling, you may need to thin the paint for easy manipulation during the marbling process.
Best papers for paper marbling
Watercolor paper
This type of paper is made to withstand wet painting techniques. You can find heavyweight, absorbent, and cold-pressed watercolor paper sheets.
Pastel paper
This textured paper which comes in various colors can be used for paper marbling. Its coating is also water-resistant so marbling it won't easily warp the surface. You can try the Canson Mi-Tientes pastel pad, a 160-gsm paper
Print or copy paper
And for those who are tight on budget, you can absolutely use print or copy paper. It's not as heavy as pastel paper, but using a 75-gsm copy paper from Fabriano would be a great start.
---
How to Use Acrylic Paint on Paper for Beginners
Acrylic painting can be done by anybody. But before you start, let's first gather the necessary tools and media.
For the best experience, it would be best to have the following supplies:
Water
Acrylic paints
Paint brushes
Paint stirrer
Paper
Paint palette (or paper plates)
Tissue/paper towel
Plastic cup/container
Wet wipes/soap
Acrylic primer/gesso (optional on paper)
Masking tape
And of course, you'll also need some inspiration and subject in mind before you begin stroking your brush.
How do you prepare the paper for acrylic painting?
Once you have everything ready, it's time to prepare your paper for painting time.
Step 1: Choose the right kind of paper.
Acrylic paint is easy to apply, but the preparation depends on the kind of painting surface that you want. Therefore, select the paper according to your preferred finish, weight, and price. It would be better to choose something heavyweight to avoid bleeding and warping, like Canson Montval Acrylic Paper.
Step 2: Tape the paper on a flat surface.
Your paper should stay in place to avoid mistakes. So, tape all the edges of the paper to the board or any hard surface. Do this step thrice to keep paint from bleeding.
Step 3: Prepare your acrylic gesso if necessary.
In general, you don't need to prime your acrylic or watercolor paper. But if it is uncoated or unprimed, you might need to apply some acrylic gesso to achieve the desired painting surface.
Start by opening your acrylic gesso and transferring it to a smaller container. Then use a paint stirrer (or a stick) to mix it slowly. You can opt to buy a premixed gesso if you want to skip this step.
Step 4: Thin the first coat of gesso with water.
Acrylic gesso is a viscous substance, so diluting your first coat of gesso with water will ensure a smooth layer on your paper. Add water until the gesso is thick as a yogurt before painting it on the surface. Wait till it's dry.
Step 5: Add more layers if needed.
Gessoing a stretched canvas is different from priming paper, but you can add another layer to prevent water absorption. Don't forget to stroke your brush horizontally and vertically for an evenly applied coat.
Step 6: Let the gesso dry before diving in painting.
After applying some undiluted gesso, let it dry for at least 20 minutes. Also, check the tapes and make sure they are sticking well to the board.
How to blend acrylic paint on paper
Your paper is now ready for some action, so what's next? Painting, of course! To get you started on techniques, you need to learn blending, a technique of creating beautiful gradients. There are various ways on how to blend acrylic paint on paper, but you can start with the easy ones.
Acrylic paints are thick substances, so adding a little bit of water can reduce their viscosity. But don't overdo it, because the gradients might become untidy.
You might also consider buying a slow-drying acrylic paint so that you can gradually manipulate the gradient for a longer time. Another option would be to use a wetting agent or retarder to prolong your paint's workability.
And lastly, don't forget to use a soft paintbrush for gliding wide, neat but soft strokes to show the colors' continuity.
How to seal acrylic paint on paper
After finishing your artwork, the next step is to preserve it. That's why sealing acrylic paint is significant to prevent dust, dirt, water, and UV rays from damaging it.
To do that, you need the painting to be totally dry. If you varnish it too soon, the trapped moisture can cause visible strokes on the surface.
Then, pour the varnish or acrylic medium gel in another container. Dip your varnishing brush (yes, another one) and apply all over the painting slowly and smoothly.
But before you start coating, put the painting on a wooden or any sturdy board so that the varnish doesn't leak on the surface underneath.
---
Can You Use Acrylic Paint on Paper Mache?
Painting is such an interesting medium that you can create anything beyond your imagination, such as making a ball of moistened paper sheets, known as paper mache (or papier mâché). The question is: can you use acrylic paint on paper mache? Definitely, a big yes!
In fact, acrylic paint is the most commonly used paint since it dries fast and doesn't need much water for mixing and blending, so no worries on destroying the craft. By using acrylic paint, one can craft decorative items, such as a jewelry case, bowl, vase, and even a piñata!
Best paper for paper mache
Lastly, don't forget the most important material—paper. Since you'll need a lot of paper strips for this technique, using watercolor or acrylic paper might be impractical.
Instead, use newspaper, recycled paper or cardboards—inexpensive, handy, and compatible with acrylic paints. Though you can have tissue rolls, print paper, and book paper, they are not the best papers for acrylic painting.
---
Acrylic Paint On the Paper FAQ
Can you laminate acrylic paint on paper?
Yes, you can, if you're referring to cold lamination. Though it doesn't use heat, unlike the traditional way of laminating, the pressure and adhesive from the cold-roll laminator may still damage the painting.
What's the safer option then? That'd be applying some glossy acrylic medium, which also mimics the sheen and texture of laminated paper.
Can you use acrylic spray paint on paper?
Absolutely! Acrylic spray paints are just like your regular acrylic paints—water-based and nontoxic. However, you don't need to use a paintbrush anymore to provide an evenly coated layer; just spraying it will do!
Does acrylic paint last on paper?
Yes, it does, depending on the type of paper. If you apply acrylic paint on a thick, heavyweight, absorbent, and acid-free paper, the paint can last up to a decade, and even a hundred years when varnished and stored properly.
Does acrylic paint bleed on paper?
Unfortunately, acrylic paint can bleed through the surface when it is lightweight and thin. That's why you need to choose high-quality and bleed-proof paper.
---
Acrylic painting on paper ideas
Want to unleash your inner Picasso? Here are 10 fun and easy ways to enjoy acrylic painting.
You can start by painting each other's portraits on a Friday date night.
Paint your favorite Star Wars character on the paper, then frame and display them in your living room.
Greeting cards
Make your greeting cards extra special by paper marbling them. Not only are they personalized, but you get to enjoy the process!
Decorative bowls
Bring your interior designing skills to a different level by customizing your decorations like paper mache bowls painted with acrylics.
Flower vases
Spring is the season of blooming flowers and painting ideas, such as making a painted paper mache vase to store your freshly picked flowers.
Notebook or book cover
Turn your boring books into interesting ones by painting the front and back covers with acrylics.
Customized phone cases
Make your phone case more aesthetic by painting with your desired designs. The more, the merrier!
Framed quotes
Decorate your minimalist bedroom by hanging framed quotes on the wall, using acrylic paint for the background.
Paper marbled envelopes
Impress someone not only with your writing skills but also with your beautifully marbled envelope.
Painted bullet journal
Journaling becomes even more creative with the help of acrylic paint and acrylic markers. They make your notes and doodles more vibrant-looking!
Even more ideas for holidays and seasons:
Wrap Up
It may seem that acrylic painting is intimidating and complicated, but it's not. It's a matter of experimenting and being creative. So, don't be afraid to create something avant-garde with acrylic paints!
For the best results, choose a thick, heavyweight, durable, and acid-free paper for acrylic paint to prevent all sorts of damage. And don't forget that the secret to a smooth finish is varnish. Enjoy painting!